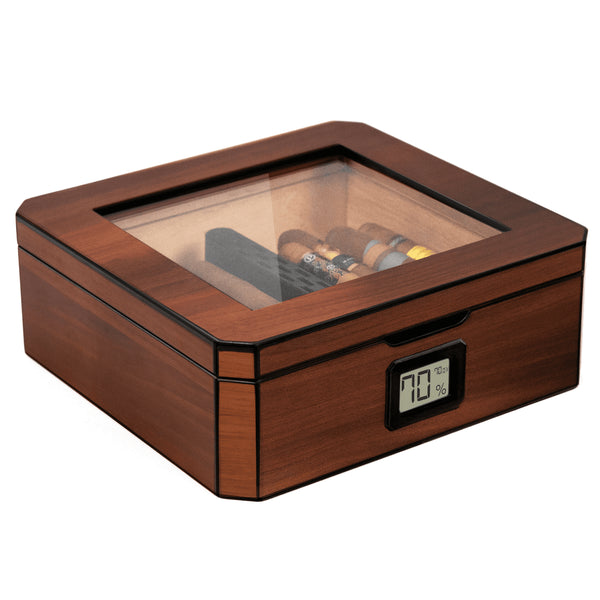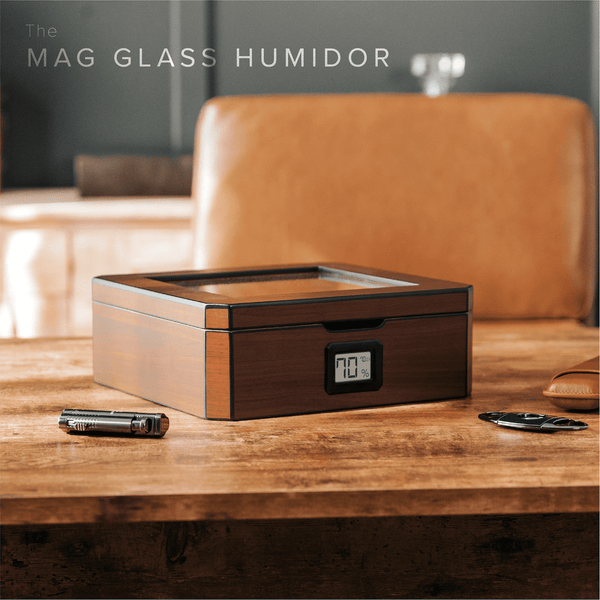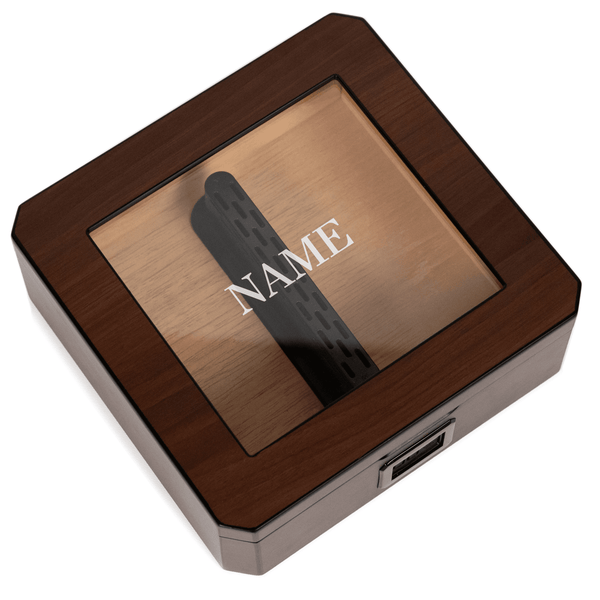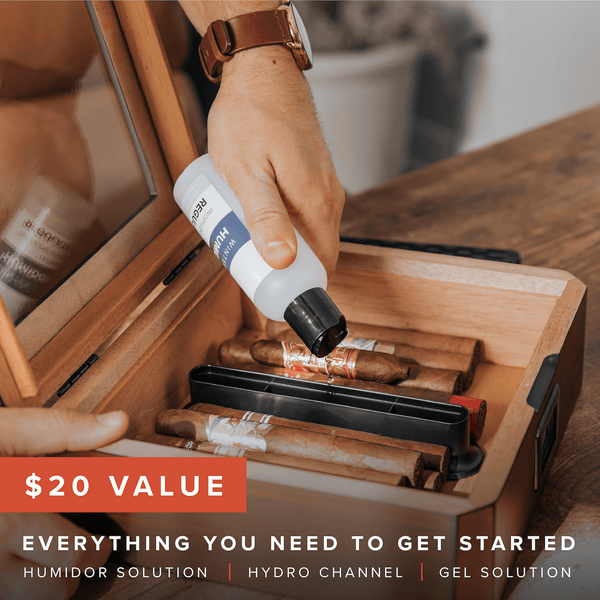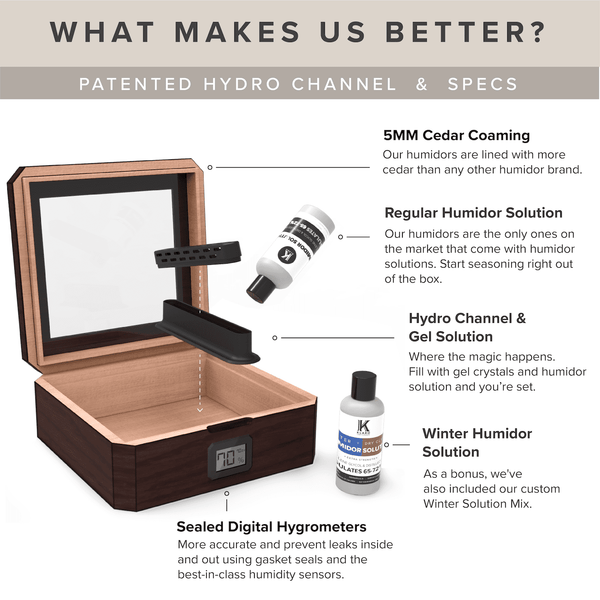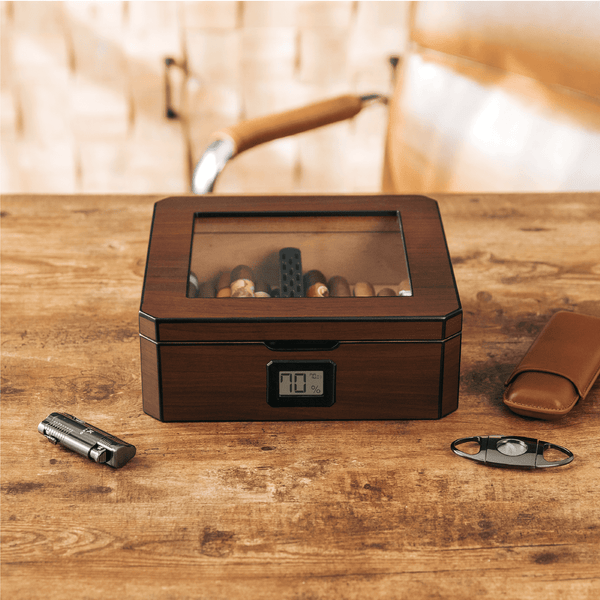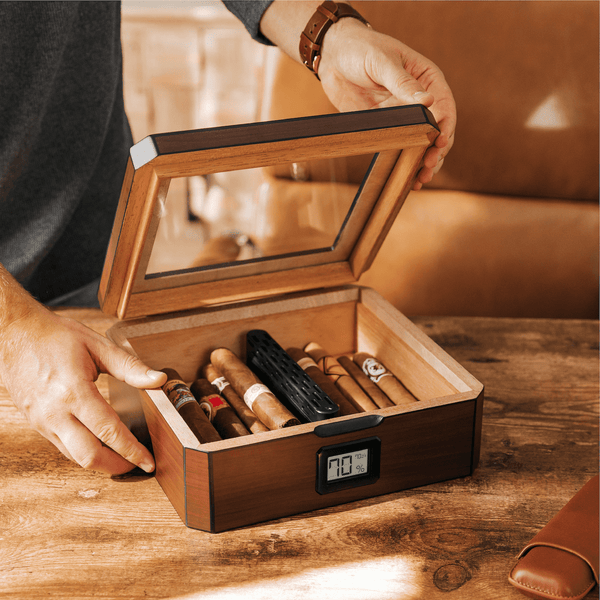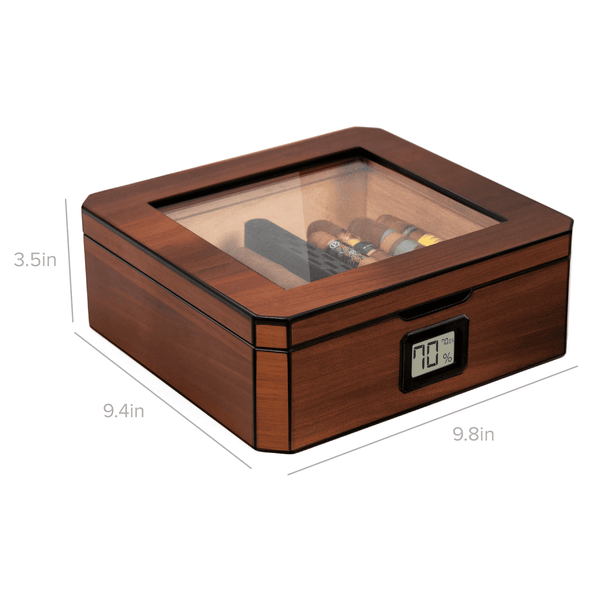 KLARO HUMIDORS - HOW WE'RE DIFFERENT
COMPLETE HUMIDIFICATION SYSTEM
Klaro humidors will be the easiest humidor you've ever seasoned and maintained. Comes with everything you need including 2 bottles of humidor solution, a pack of gel crystals and the hydro tray. Of course we give you detailed written and video instructions, backed by amazing support so we'll be with you every step of the way.
ACCURATE HYGROMETER
Our digital hygrometers are silicone gasket sealed from back to front, and include the most accurate european sensor on the market. You'll never have to wonder whether your cigars are taken care of.
MORE CEDAR
Klaro humidors have more Spanish cedar than any other brand on the market. Spanish cedar keeps away cigar beetles and makes sure your cigars are always the right humidity.
TIGHT SEAL
Our seals have been re-engineered to ensure an incredibly air-tight fit. We have custom rear hinges that lock in the seal. We also have super fat cedar coamings that will expand as your humidity increases to really ensure your smokes stay fresh for the long haul.
MAG HUMIDOR - WALNUT FINISH
The MAG exists in a category all of its own. This exterior of the MAG desktop humidor is distinguished by its unique octagonal shape and rich Walnut finish. We've included thick 5mm Spanish cedar inlay in the interior to help control and balance the humidity. Oh, and it smells great. Easily monitor your performance with the embedded gasket-sealed digital hygrometer that provides hyper-accurate RH and temperature readings.
The MAG comes with everything you need to get started, including two bottles of our humidor solution, gel crystals, and the Hydro Channel–ready to season your humidor upon arrival. The single perforated tube of the Hydro Channel exposes your cigars to regulated humidity. The Hydro Channel takes up only one cigar width of space while creating the perfect cigar-storing environment. The base is curved, so you can stack cigars next to the tube. The MAG seamlessly integrates humidification, hygrometer accuracy, and a way to organize your cigar collection, making the MAG a great all-purpose, mid-sized humidor.

HIGHEST QUALITY HUMIDOR OF THIS SIZE – We take quality wood construction seriously here at Klaro. While other humidors include only a thin veneer of cedar 0.2mm thick, each MAG humidor features Spanish cedar inlay that's 5mm thick, sure to absorb, store, and release moisture to regulate optimal humidity.

THE HYDRO CHANNEL – Maintaining the right humidity levels is easier than ever with the new Hydro Channel by Klaro. The perforated holes at the top and sides of the channel lid allow for natural evaporation to thoroughly humidify all areas of the humidor's interior while also serving as a divider for your cigars.

THE PERFECT SIZE – The MAG holds 20-30 cigars, an impressive capacity given its smaller size. We reinvented our humidification system to take up less space while delivering the same performance.

EVERYTHING YOU NEED – We provide you with two different types of our specially-formulated Humidor Solution, both the Regular mixture and the Winter + Dry Climate mixture, to add to your Hydro Channel for super-simple seasoning.

DIGITAL ACCURACY – We make accuracy the chief priority of your humidor. From a magnetic lid that ensures no humidity leakage to our gasket-sealed digital hygrometer, we take every step in the design process to eliminate humidity fluctuation inside your humidor. Have a piece of mind knowing your cigars are covered.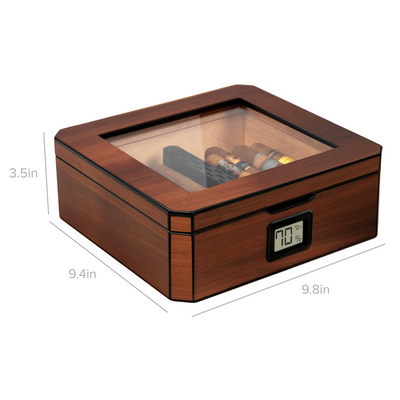 Walnut Finish

Solid Spanish cedar 
Includes full Hydro System ™ (Hydro Tray™ and two bottles of Klaro Humidor Solution)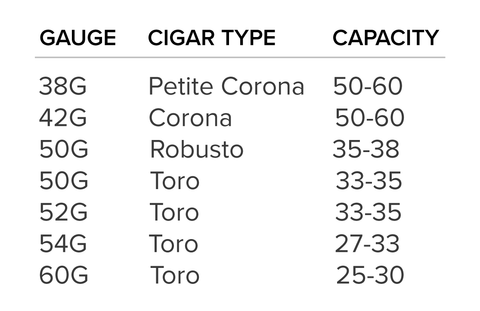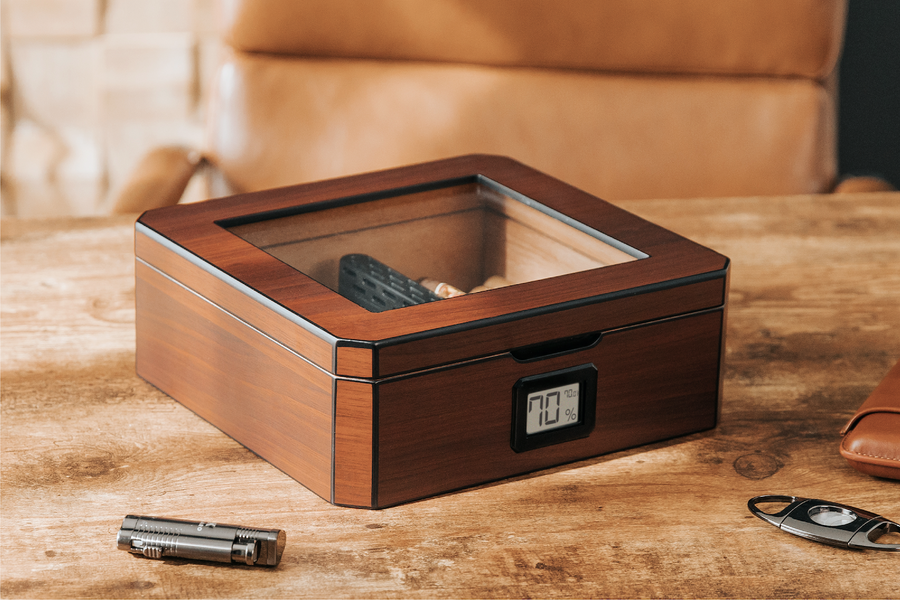 Compact Size With Peak Performance
The sleek, octagonal design of the MAG makes for a modernized, low-profile aesthetic, featuring straight edges and minimalistic features such as the discrete thumbhole lid opening. The MAG offers plenty of space with just the right amount of bravado.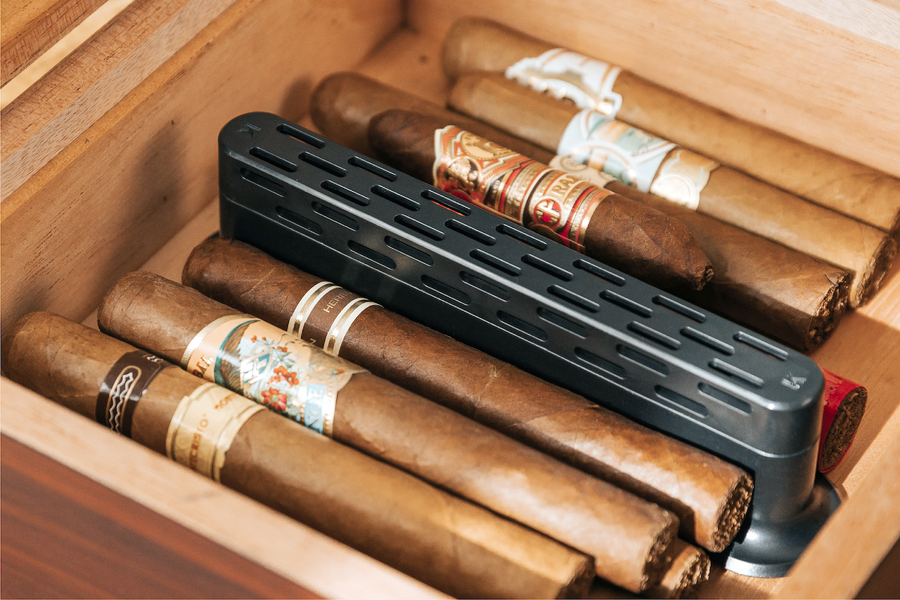 An Immediate Classic
The MAG humidor is an immediate classic, standing out as one of our most distinguished humidors yet. Finished with rich brown Walnut, polished black hardware, and a glass top sealed with a magnetic lid, this humidor boasts supreme design.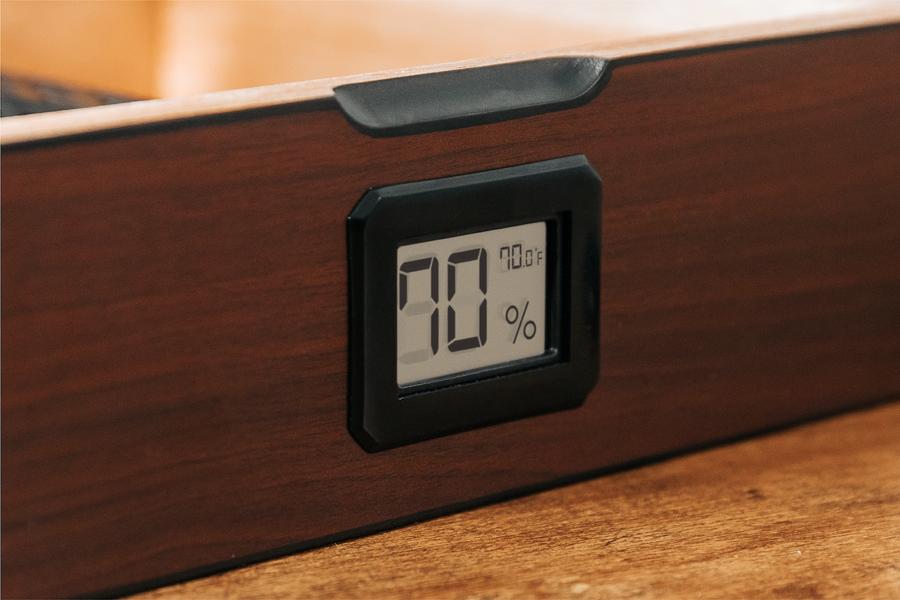 Unparalleled Accuracy
The MAG comes with our top-of-the-line digital hygrometer that is gasket-sealed to maintain the most reliable, accurate readings. Custom-built with sensors that sit deeper into the humidor gives you the perfect humidity reading for your cigar collection.
---