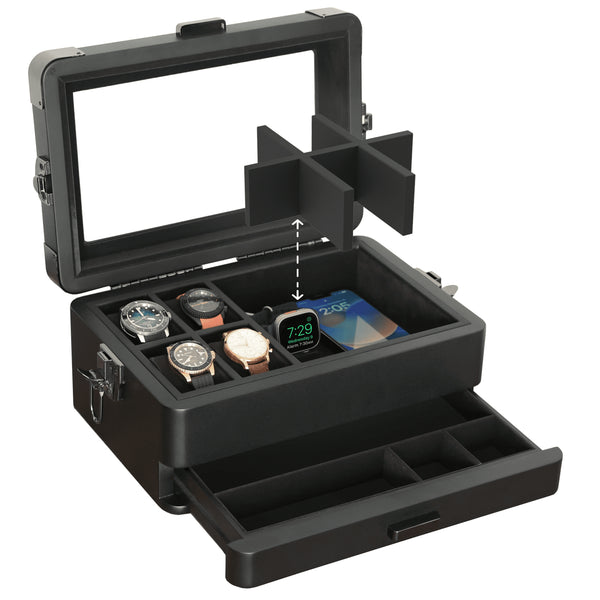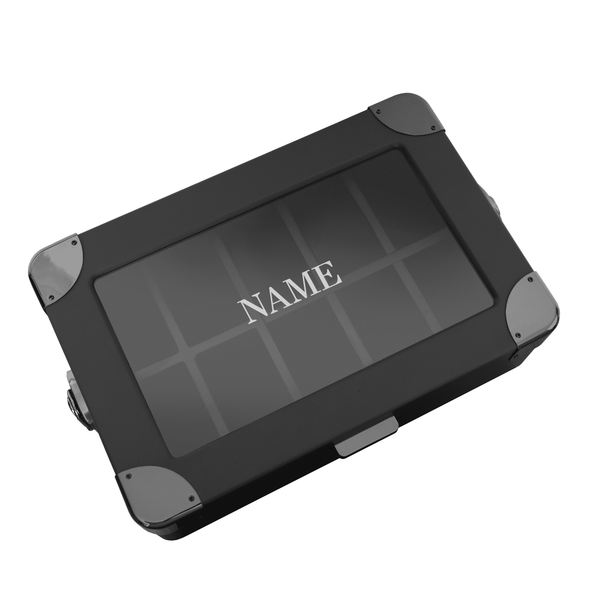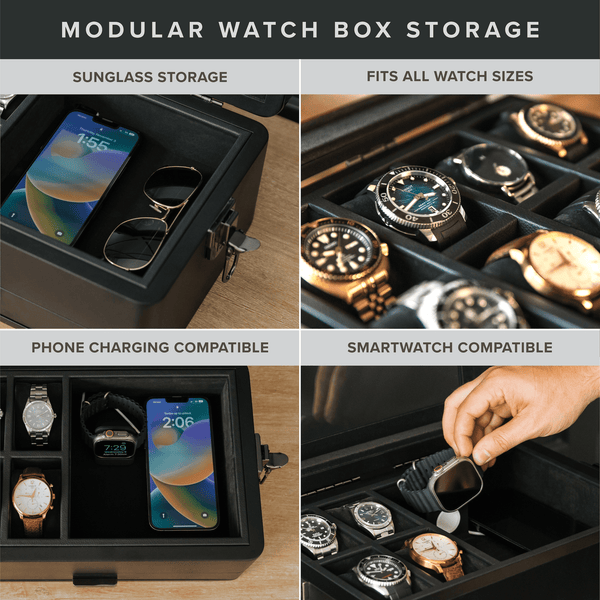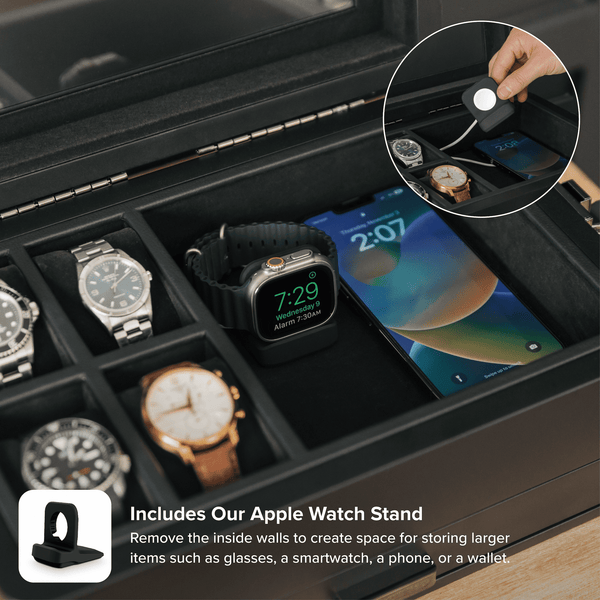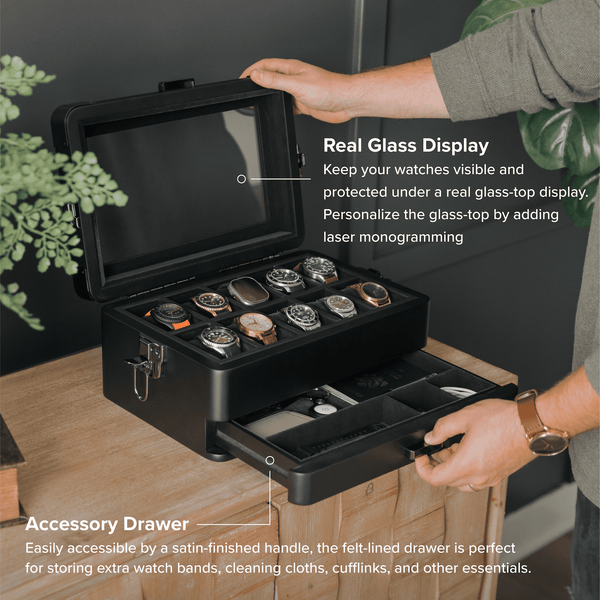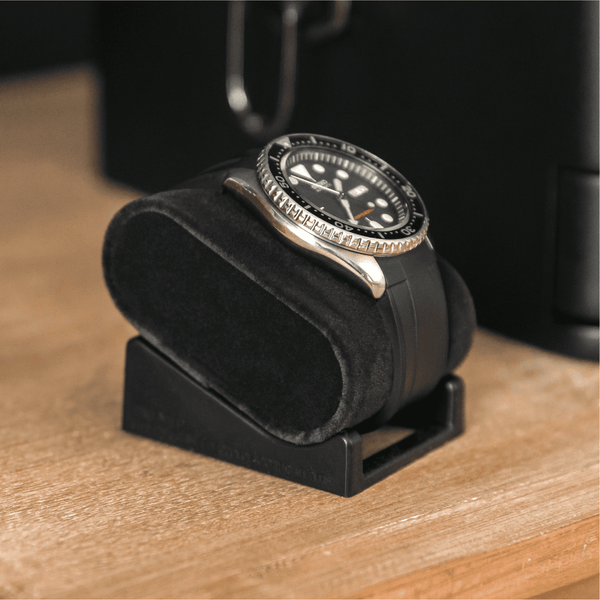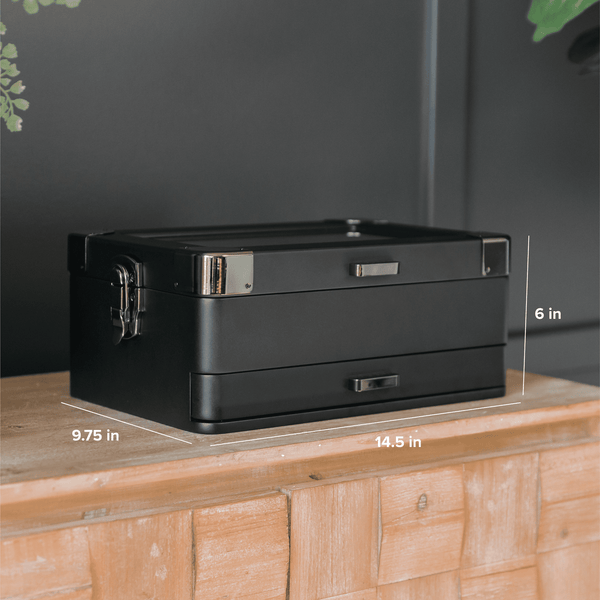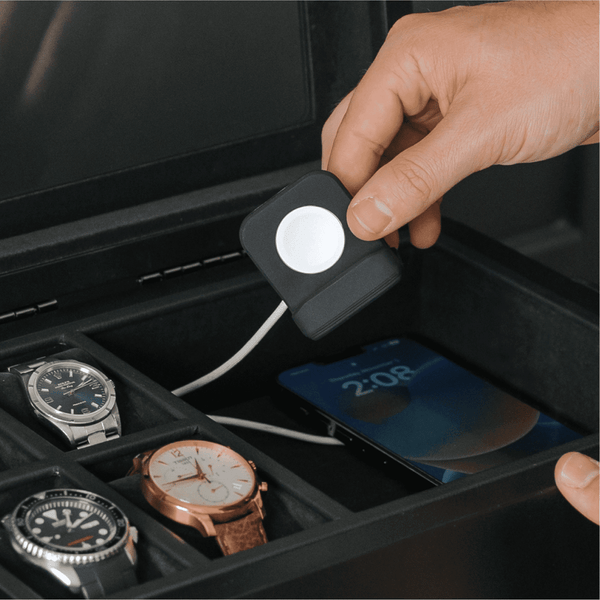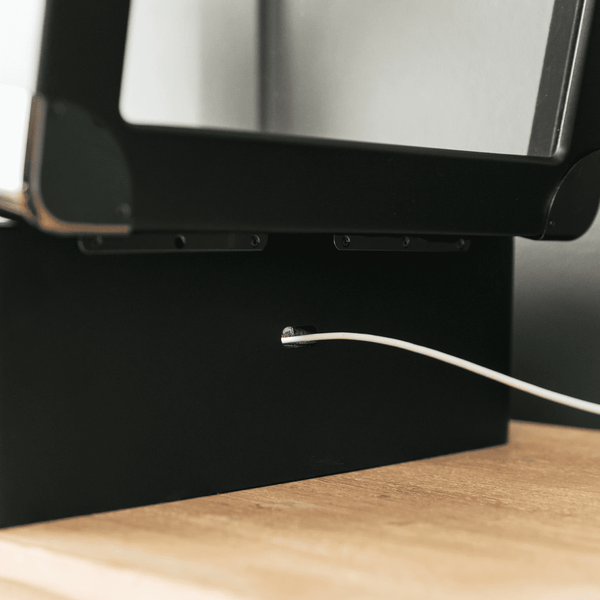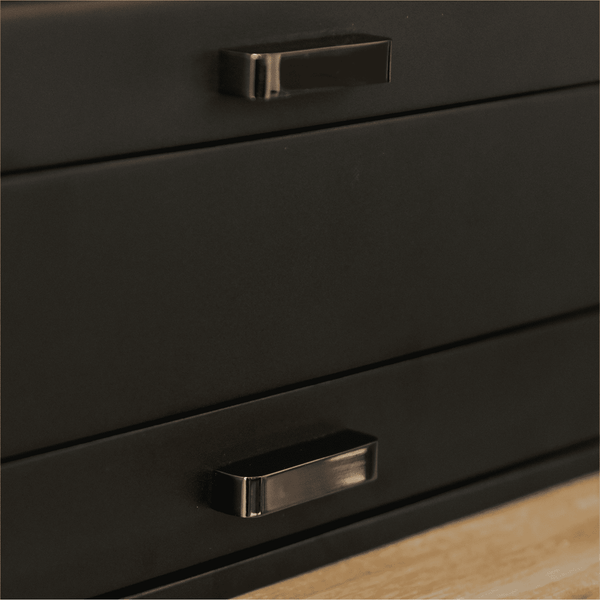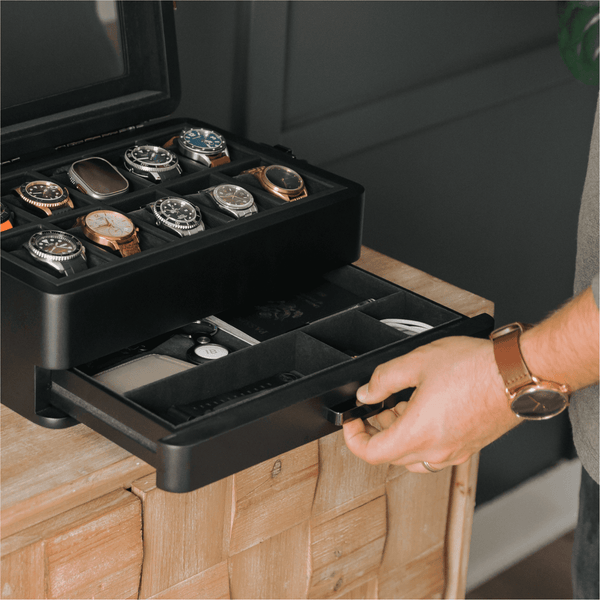 CE WATCH BOXES - HOW WE'RE DIFFERENT
COMPLETELY STRAIGHT WATCHES - EVERYTIME
Every time you set your watch in a Case Elegance watch box, it will be aligned perfectly. Our new invention, we call the watch stand, makes sure your watches always look great.
FROM 10 SLOTS TO 4
Our new watch boxes transform from 10 to 4 slots, while creating specific space for your apple watch (included apple watch stand). Plenty of space for other accessories such as wallets, iphones, sunglasses and more.
A REAR SLOT FOR CHARGING CABLES
A slot on the back of the box allows a seamless passthrough of your iPhone, Android or Apple watch charging cable. We've thought of everything.
Black Edition Military Watch Box
Proudly display your watches with the Military Watch Box by Case Elegance, a handsome glass-top display case perfect for your collection of watches and accessories. This matte black military-themed watch box features gunmetal hardware, including side latches, handles, corner guards, and removable interior walls for unique modular storage. It can store 10 large-face watches or convert into a 4-slot setup by simply removing the inside walls to accommodate sunglasses and other accessories like your apple watch or phone. The interior is lined with resilient scratch-proof, soft black velvet for ultimate protection and durable vegan leather dividers to keep your watches safe and secure. Show your watches off properly on individual cushioned pillows atop our custom-designed pillow stands that ensure your watches are perfectly aligned. We've included a pull-out accessory drawer ideal for storing extra watch bands, accessories, and tools. With the ability to customize your setup with smartwatch charging and sunglass storage, this watch box is the ideal all-in-one setup for your watch collection. As a bonus, we include an apple watch stand that displays your apple watch while it's charging.

CUSTOMIZE YOUR WATCH SETUP - The Military watch box is the most flexible watch storage option out there. The Military Watch Box houses 10 watches in its standard layout but can easily switch to a 4-slot setup with additional room for other essentials. Remove the inside walls to create space deep enough to store and protect larger items like sunglasses, a smartwatch, a phone, or a wallet. (Apple watch stand included!)

MILITARY INSPIRED - Inspired by military footlockers, each detail of this durable watch box has been designed to create a protective yet elegant storage space for your valuable watches and accessories. All hardware is plated in polished gunmetal to complete the military presentation. This watch box is an absolute tank.

ACCESSORY STORAGE - This watch box features an accessory drawer tailored for the true watch lover. Inside, you will find space to organize your spring bars, links, watch bands, and other essential tools.

SUPERIOR CRAFTSMANSHIP - From the covert matte black exterior finish, large real glass-top display, solid gunmetal hardware, included apple watch stand, and accessory storage, this watch box cuts no corners, delivering the most complete watch setup.

COVERT MATTE BLACK MILITARY - After many iterations, we dialed in the perfect matte black coating for this watch box. This sporty finish is a worthy upgrade for your timepieces.

THE PERFECT GIFT OPTION - Add a personal touch to your gift this year and include custom monogramming on the Military Watch Box, available in various fonts and placements, for a truly memorable, lasting gift.
Glass top display
Gunmetal hardware
Matte black exterior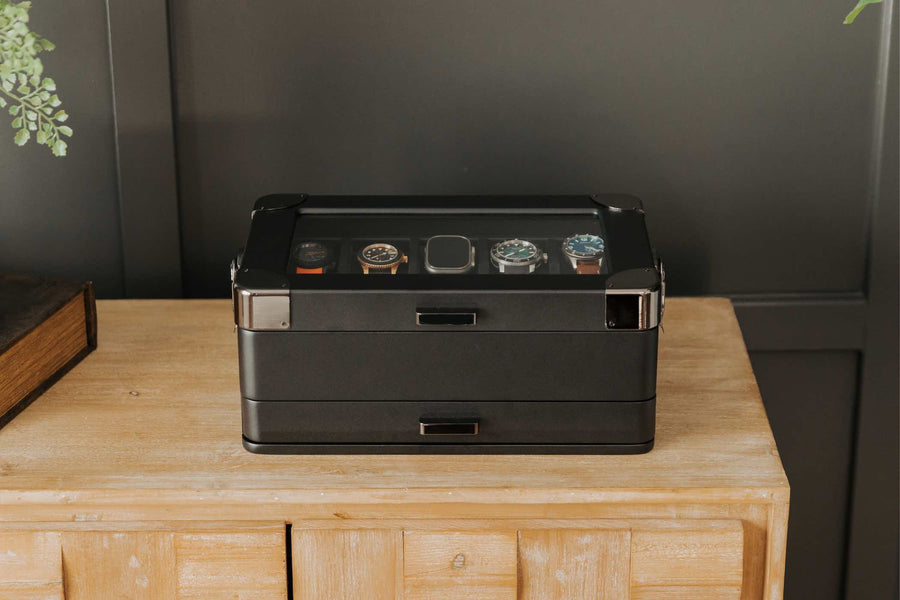 Glass Top Finesse, Gunmetal Protection
The Military Watch Box is the perfect combination of luxury and security. Highlight your watch collection, visible on velvet pillows, through the sturdy glass top display. Keep all secured with thick exterior walls, polished gunmetal side latches, and corner guards, sturdy and attractive.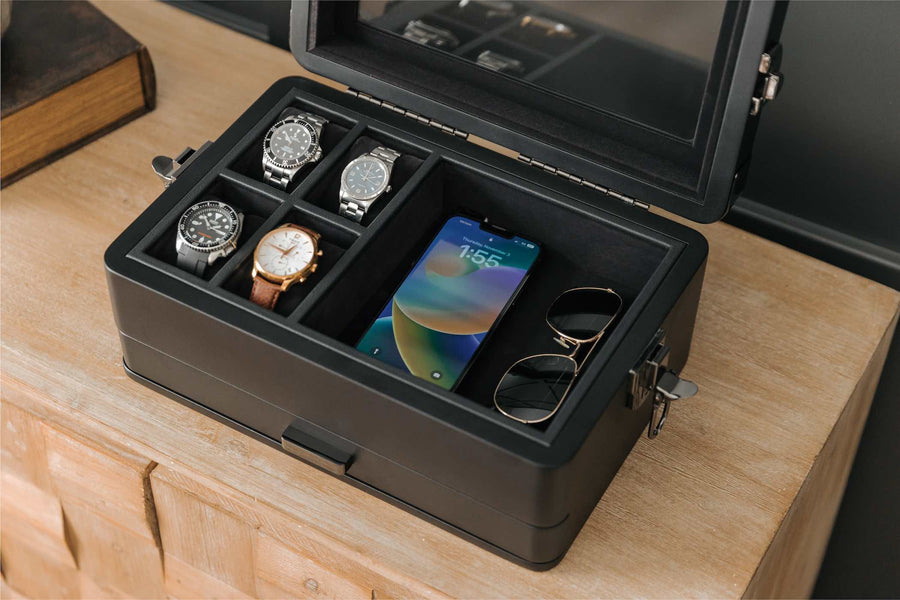 Customize Your Watch Layout
Configurable for 10 watches or switch to a 4-slot setup with additional room for other essentials like the included Apple watch stand. Remove the inside walls to create extra storage for other accessories such as glasses, a smartwatch, a phone, or a wallet. Complete flexibility.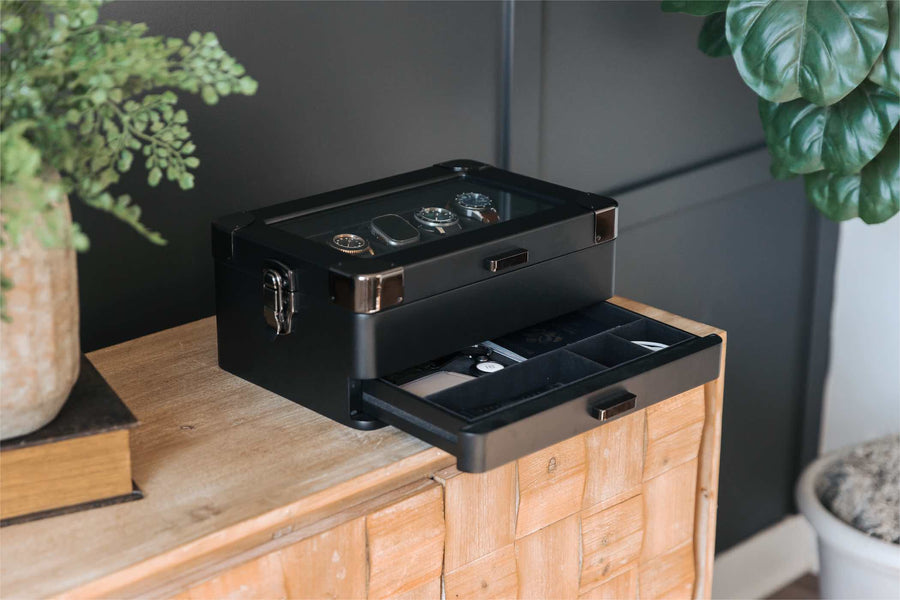 Small Watch Accessory Drawer
The felt-lined accessory drawer is perfect for storing extra watch bands, cleaning cloths, cufflinks, and other small accessories. Easily accessible by a polished gunmetal handle, the accessory drawer is representative of the craftsmanship and ingenuity seen in other Case Elegance products.
---