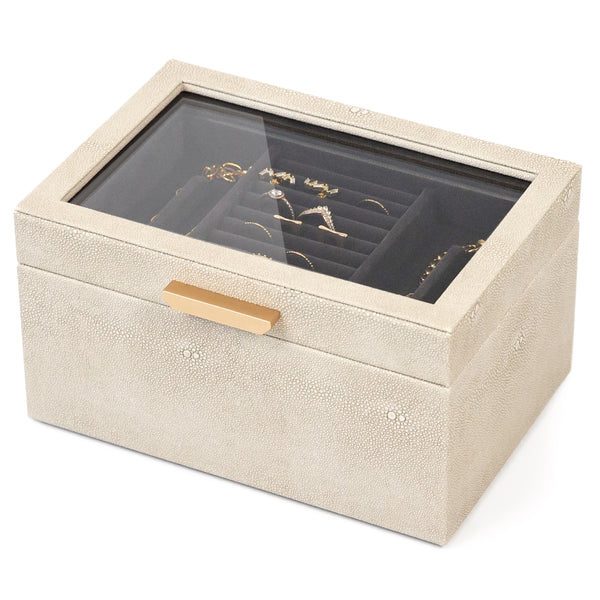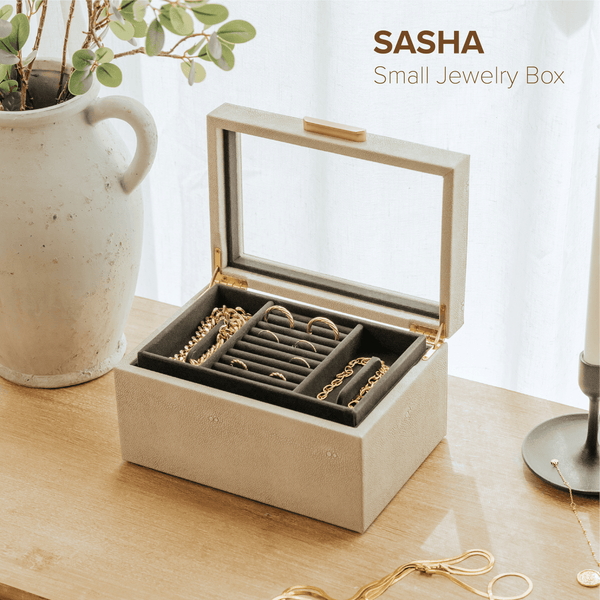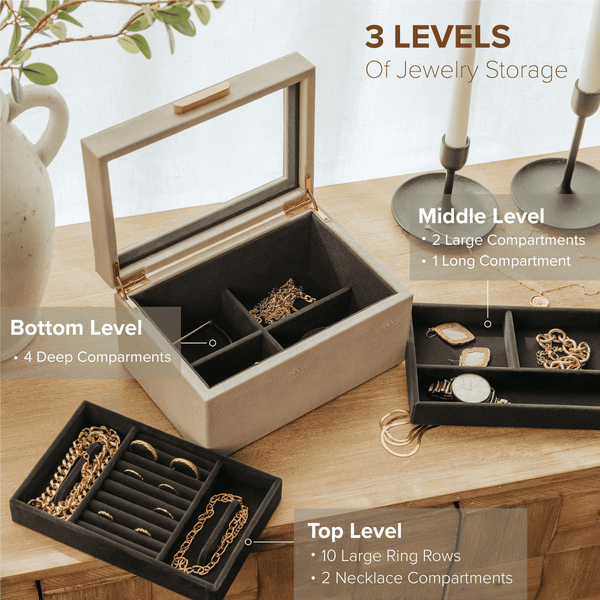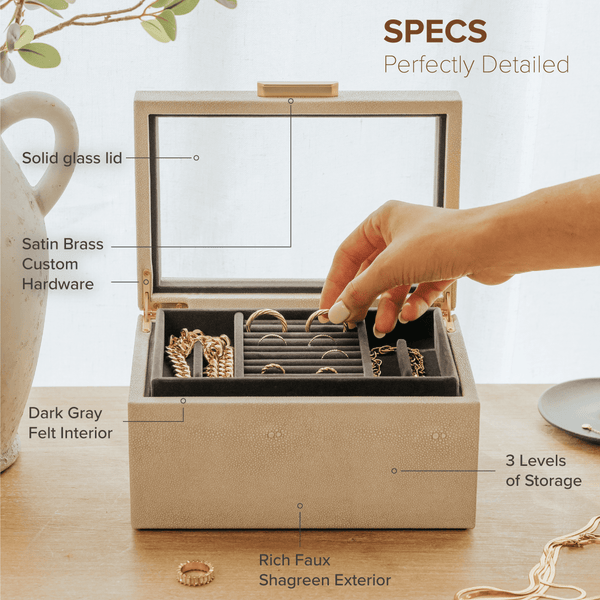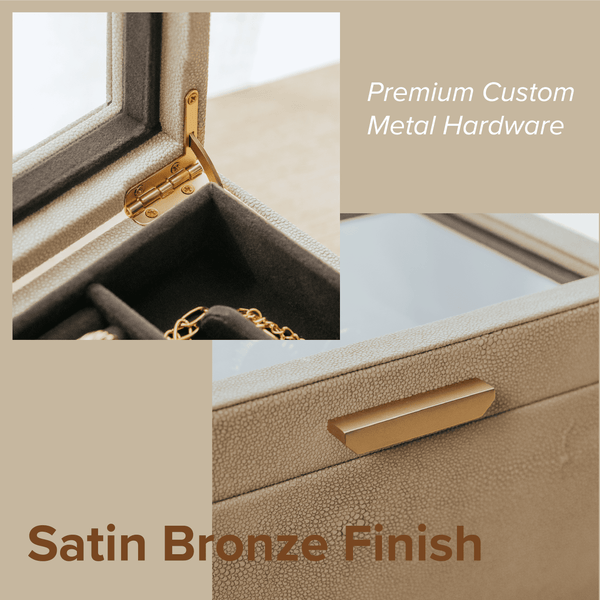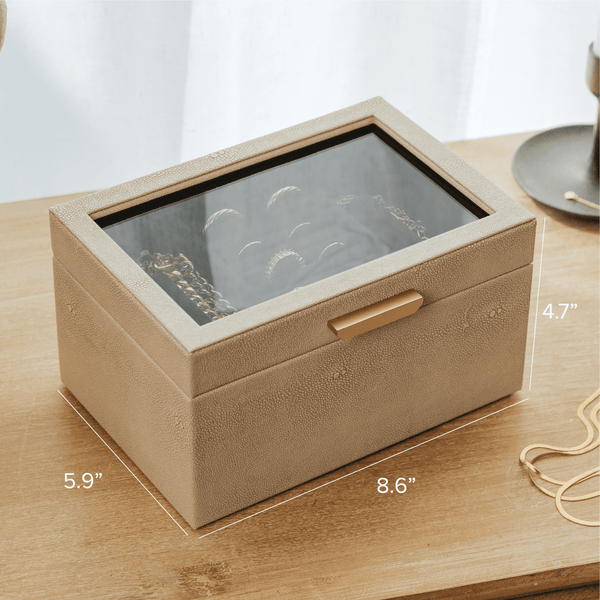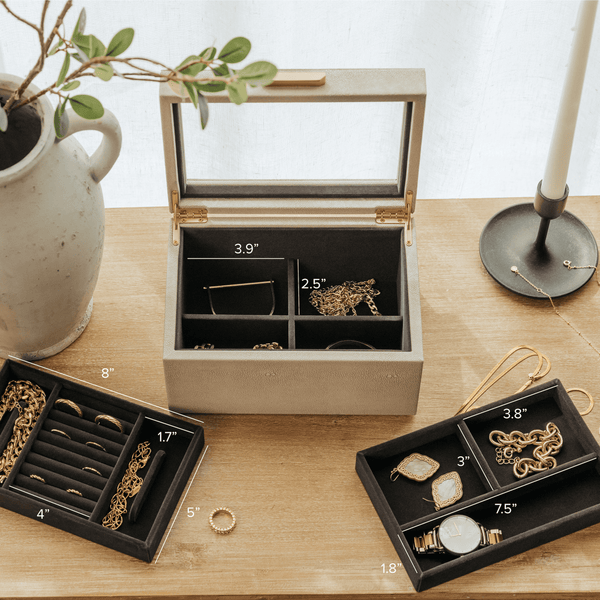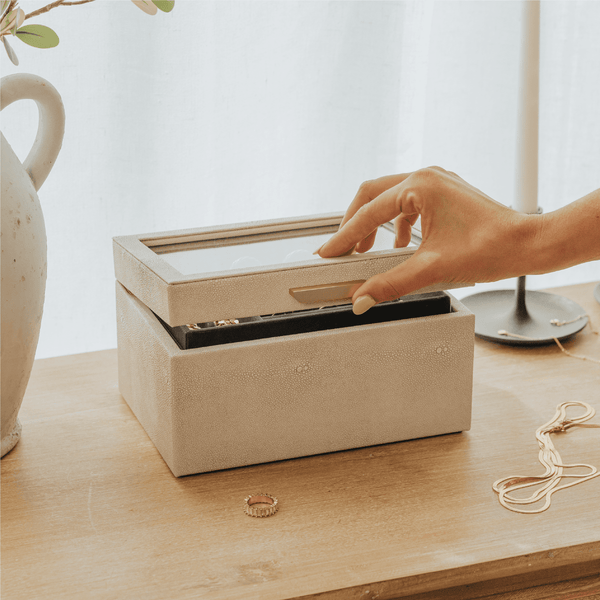 Stunning Jewelry Storage
The Sasha petite jewelry box is the perfect size for those with a modest amount of jewelry and little surface space. The curated exterior of this gorgeous box is wrapped in a vegan shagreen texture, the inside is draped with a top-of-the-line dark grey velvet plush, and custom molded handles that boast a rich satin bronze finish, giving it a truly luxurious feel. While petite in size, this storage box stores a surprising amount of jewelry in its three-tiered levels. Each level has been carefully designed to fit all sizes and styles of jewelry. Unique slots in the top level provide a unique way to store your necklaces so they don't tangle. Buttery soft, plush lined roomy storage trays cradle your jewelry, preventing unwanted scratches or blemishes. Properly display your jewelry collection with the genuine glass top lid. A stunning piece that you or your loved one will cherish for years to come.


LITTLE SIZE, BIG STORAGE - The Sasha jewelry box comes with 3 levels of storage that will comfortably store all of your necklaces, rings, watches, earrings, and bracelets. The first level has 2 unique dividers to lay down your necklaces, preventing them from tangling easily, and 10 ring holders. The second level provides 2 large compartments, ideal for bangles and bracelets, and 1 longer compartment for watches. The bottom level encloses 4 deep catchall storage sections.


PREMIUM FINISHES - We've meticulously hand-selected premium and luxurious materials, like the faux shagreen exterior, the dark gray plush interior, and solid metal hardware finished in satin bronze.


A PROPER DISPLAY - A large beautiful tempered glass lid showcases your beloved jewelry while protecting it from dust, giving your pieces greater longevity.


THE PERFECT GIFT - The Sasha jewelry box is a perfect gift for those in your life who love jewelry and are always looking for chic storage. This petite jewelry box is ideal for moms, girlfriends, and sisters and comes beautifully packaged and masterfully built, making this the perfect gift.


PERSONAL TOUCH WITH ENGRAVING - Make it your own, or elevate your gift by adding a personalized touch with your last name or initials engraved on the glass lid. Offered in a modern or classical font.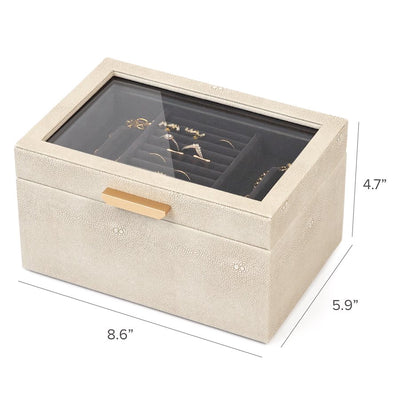 Faux shagreen texture
Dark gray plush velvet interior
Satin bronze handles and hinges 
Tempered glass lid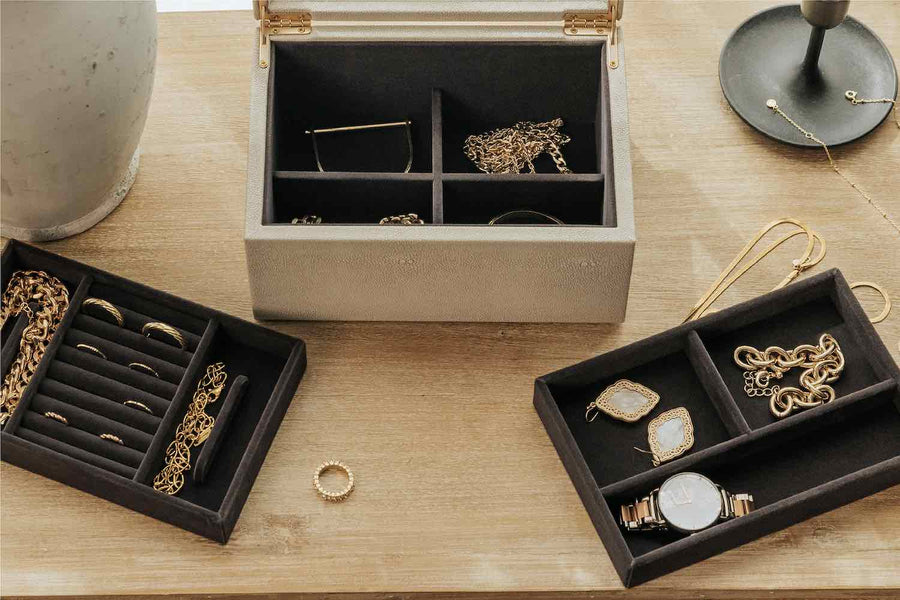 3 LAYERS OF STORAGE
The Sasha Jewelry box comes with 3 levels that will comfortably store all your necklaces, rings, watches, earrings, and bracelets. Protect your investments in style.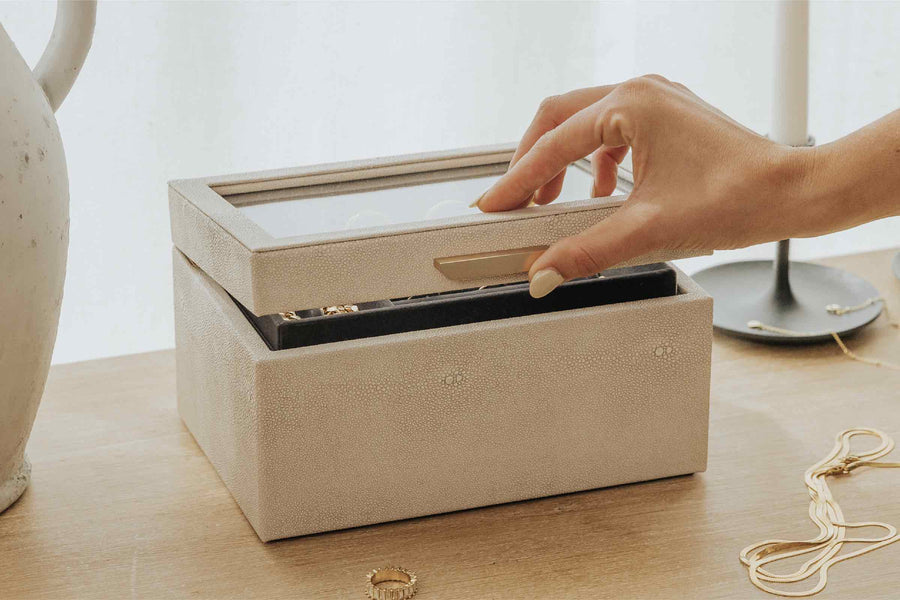 PREMIUM MATERIALS
Every material used in the Sasha Jewelry Box was meticulously hand-selected and designed. The exterior is finished in a rich faux shagreen texture that contrasts with the dark velvet interior. Carefully installed satin brass hardware adds the finishing touches.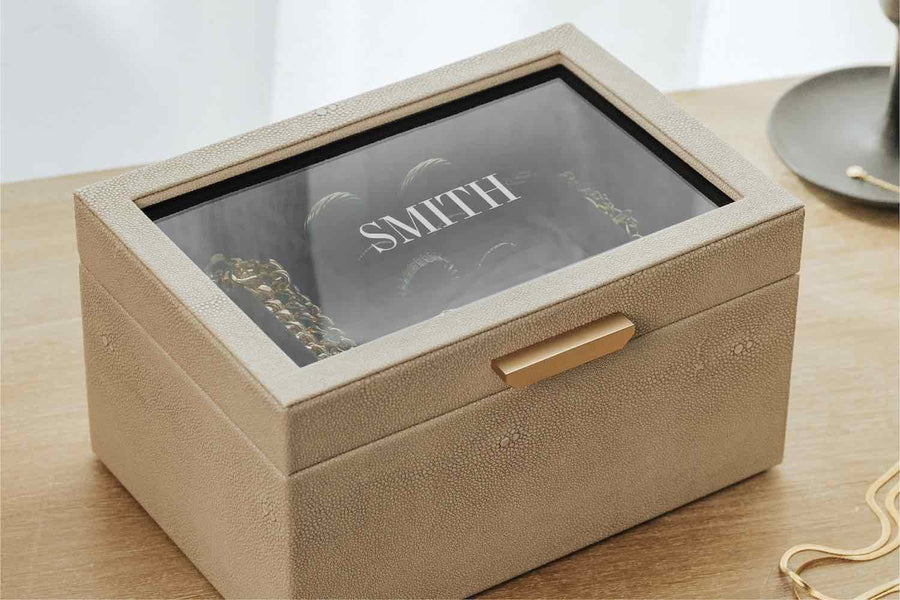 ONE OF A KIND
Make it your own with our glass personalization with your last name, initials, or something more personal. You can add that special touch to the Sasha jewelry box with monogramming.
---