Yes, their purpose is quite simple, and yet extremely important, for cigar lovers: to keep the tobacco stored at a certain level of humidity so that you don't end up smoking a dry, stale or moldy cigar. But it doesn't mean a humidor cannot offer the joy and luxury of a work of art. Only that the price tag can make you jump out of your skin.
In the following lines, we will briefly describe our top 10 best & most expensive title="Humidors" rel="noopener noreferrer">humidors.
Emperador Humidor from Imperiali Geneva ($1.000.000)
Leading our selection of our top 10 best & most expensive humidors, we find the Emperador Humidor. It's luxury at its best. This incredible tourbillon timepiece is made up of 323 moving parts and dials. They help keep a steady temperature (always around 65) and humidity levels (always at 70%). It comes with 24 Grand Cru cigars, all wrapped in gold leaf and aged for 48 months. But that's not all. It contains a hidden laser-guided cigar cutter, a desktop cigar lighter, and a motion-sensing ashtray.
Davidoff Geant Humidor 'Clement 2014' ($20401)
The Davidoff Geant Humidor 'Clement 2014' comes second in our top 10 best & most expensive humidors list. A prestigious Swiss craft company produces Davidoff humidors exclusively for the firm. Its especially durable finish is guaranteed by the use of noble woods that are cut, assembled, polished and provided with several layers of varnish. 
This particular piece is a work of art that offers to combine perfection in both design and craftsmanship. More than 3000 small, painted pieces of glass make it glitter like a diamond, and they also give this $20,401.00 humidor a certain magical attraction.
Elie Bleu Black Dragon Limited ($8800)
The prestigious Elie Bleu manufactures holds the third place in our top 10 best & most expensive humidors choice. In 2012, to commemorate the Year of the Dragon, this company created a box design with positive symbolic and supernatural virtues of China.
The body of the dragon is entirely inlaid with mother of pearl shell from the Pacific. It has wood inlay work animated with claws, teeth and flaming metal. It's a 110 cigars marquetry humidor in dyed figured sycamore and white mother of pearl. And it has not one but two humidification systems and one hygrometer. Unfortunately, it's a limited edition, so there are only eight of them.
Aston Martin Solid Walnut Humidor ($7500)
Using the very finest materials, Anthony Holt silversmiths hand-craft this beautiful piece, the fourth in this top 10 best & most expensive humidors. This exquisite cigar box is hand-made in solid walnut and sterling silver. The interior has a removable cedar tray and is lined in American cedar. 
Scritto Venezia Calf Leather Cigar Box ($6250)
The fifth place in this top 10 best & most expensive humidors is occupied by no other than the  Scritto Venezia Calf Leather Cigar Box. This beautiful object, from Berluti, is handmade in Paris, France. It combines solid wood and mahogany polished Venezia leather. The leather (calf) is specially tanned so it develops a gleaming finish. Inside, there's a removable humidifier that helps keep the cigars fresh. Also, it assists the flavor-enhancing tobacco aging process.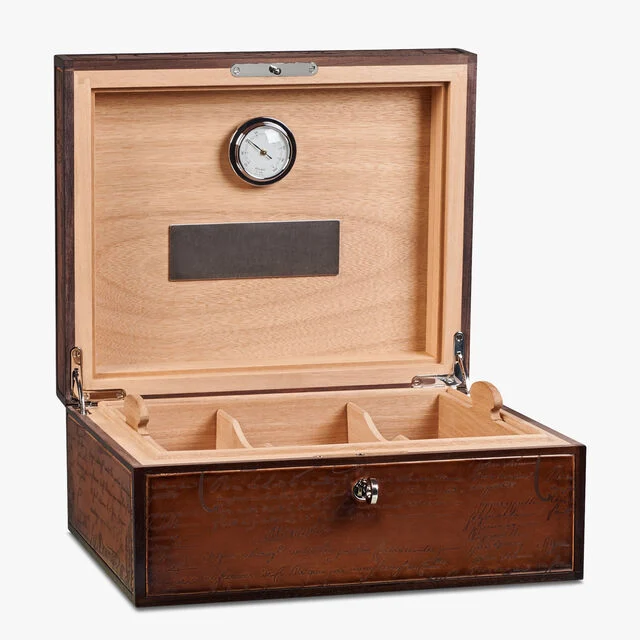 Cigar Humidor 150 (California Design) by Juergen Eberl ($5000)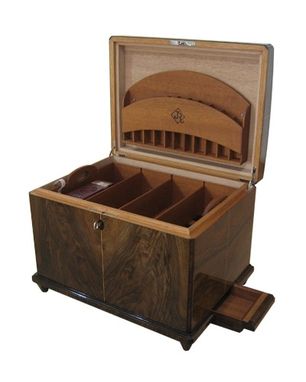 In the sixth place, we have a piece designed by Juergen Eberl. The first of a limited edition series of 51 State Seal cigar boxes, this humidor is made of cedar and mahogany. It comes with an electronic humidity system and can hold from 100 to 150 cigars. The fittings are made of polished nickel-plated brass. This hand-made marquetry has approximately 300 single veneer pieces. It also features a hidden drawer for the cutter and lighter.
Ghurka's Partido No. 214 ($3500)
As our top 10 best & most expensive humidors list continues, we encounter a cigar box by Ghurka. This Italian, handcrafted humidor has a classic design. The artisans use hardwood wrapped in the finest full-grain leather. The Partido features genuine Spanish cedar interior panels and can store up to 35 cigars. It also has a removable Spanish cedar tray and divider.
Davidoff Zino Platinum Cavern Cigar Humidor Black ($3300)
This elegant oval-shaped humidor features a removable tray and a separate compartment of stainless steel. Skilled European artisans created this unique piece using wood-crafting techniques. It's finished with 15 layers of hand-polished lacquer and metal hardware is produced in Palladium plated brass.  It can hold up to 60 cigars and its humidification system maintains cigars at perfect humidification of 70-72%. All these characteristics make this cigar box deserving of the eighth place in our top 10 best & most expensive humidors selection.
Agresti Shiny Ebony Humidor ($3000)
The Avana Nera Humidor is number nine in our top 10 best & most expensive humidors list. It consists of an elegant box with a modern design in bright ebony. This humidor, by Agresti, also contains a tray. Besides, it's ironware is coated with cedar and bathed in ruthenium.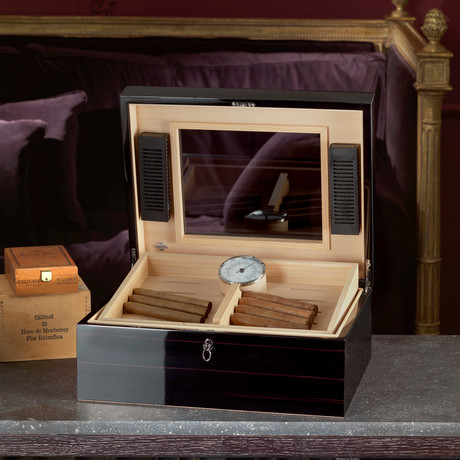 Assouline Humidor - Havana Travel Humidor ($1000)
Closing our top 10 best & most expensive humidors choice, there's the unique Assouline Havana Book Humidor. It looks like a book on the outside, but it is hollowed out to create enough space for your cigars. It can fit perfectly into a regular bookshelf, it's travel-friendly, and features a gauge and regulator.
Each piece in our top 10 best & most expensive humidors is incredible. But beauty, quality, and affordability don't have to exclude each other. Nowadays, there's a wide variety of humidors on the market.  And they can be functional, beautiful and inexpensive. Check our beautiful humidor collection.