KLARO HUMIDORS - HOW WE'RE DIFFERENT
COMPLETE HUMIDIFICATION SYSTEM
Klaro humidors will be the easiest humidor you've ever seasoned and maintained. Comes with everything you need including 2 bottles of humidor solution, a pack of gel crystals and the hydro tray. Of course we give you detailed written and video instructions, backed by amazing support so we'll be with you every step of the way.
ACCURATE HYGROMETER
Our digital hygrometers are silicone gasket sealed from back to front, and include the most accurate european sensor on the market. You'll never have to wonder whether your cigars are taken care of.
MORE CEDAR
Klaro humidors have more Spanish cedar than any other brand on the market. Spanish cedar keeps away cigar beetles and makes sure your cigars are always the right humidity.
TIGHT SEAL
Our seals have been re-engineered to ensure an incredibly air-tight fit. We have custom rear hinges that lock in the seal. We also have super fat cedar coamings that will expand as your humidity increases to really ensure your smokes stay fresh for the long haul.
Military Grade
Introducing the Military Glass Top Humidor. This humidor is built like a tank with thick wood construction and cedar inlay, making it easier to maintain a constant ideal humidity for your precious stogies. The corners are protected with polished gunmetal corner guards, and the sides are fitted with lid latches. We have stenciled distressed graphics under the custom carrying handles, giving it that extra resemblance of a military foot-locker. Our reimagined Klaro accessory drawer is fitted with a special foam, commonly found in protective military cases, precisely cut to hold our exclusive Gunmetal Accessory Kit (Note: it's removable if you decide not to purchase the accessory kit). We've included everything you need to get up and running with your new Klaro humidor, including the patent-pending Hydro System, which comes with a humidification tray, one bottle of regular Humidor Solution, and one bottle of Winter + Dry Climate Humidor Solution Mix. This humidor is the complete package for those who have an affinity or were in the military. Holds (50-100 Cigars).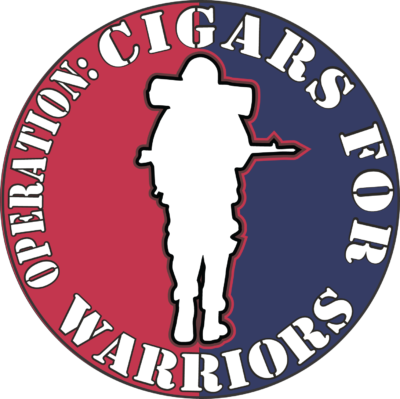 We have partnered with Cigars for Warriors to donate between $5 - $10 per unit for veteran cigar purchases.
AFICIONADO APPROVED - Constructed out of thick wood and Spanish cedar inlay, this humidor is the real deal. Inspired by military footlockers, the exterior boasts a matte military green color and custom polished gunmetal components, including the corner guards, side lid latches, handles, and front digital hygrometer. The inside has a recessed humidification system and a removable storage tray that's slidable. No more having to remove the top tray to reach the cigars you want in the bottom.


DIGITAL ACCURACY - Embedded on the front of the Military Humidor is a digital hygrometer. This Klaro custom-built hygrometer is the most accurate way to monitor the inside humidity of your humidor, ensuring your cigars are just how you like them, fresh. Behind each hygrometer is a precise rubber gasket seal, giving you extra protection against unwanted air leakage.


FOAM ACCESSORY DRAWER - Each Military Humidor drawer comes lined with EVA foam with a diamond-cut pattern that resembles the foam found in military storage cases. Inside we have included a removable pre-cut accessory holder that houses our exclusive Gunmetal Edition Accessory Kit by Klaro. Stop losing your accessories and store them in the ideal place, your humidor. Purchase the accessory kit for the ultimate gift.


PERFECT SEASONING - In the humidor's base, we feature the recessed Hydro System, an accurate and low maintenance cigar humidification system. By recessing the Hydro System, we eliminate any wasted space, allowing you to store more cigars. This patent-pending solution makes controlling your humidor's humidity between 65-72% RH a simple task. We recommend purchasing the Klaro membership to get a year's supply of the essentials to keep your humidor seasoned.


EVERYTHING YOU NEED - From the custom digital hygrometer, patent-pending Hydro System, removable/slidable wood storage tray, custom metal hardware, to the unique foam accessory drawer, every detail of this large humidor has been scrutinized to give you the best box for your cigars.

CIGARS FOR WARRIORS - a portion of all sales will go to those who made a sacrifice to keep us safe.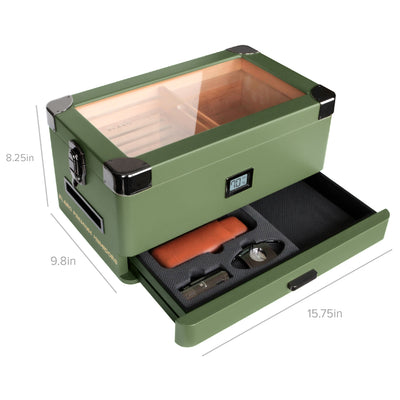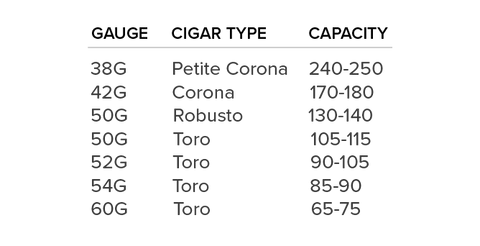 Walkthrough & Seasoning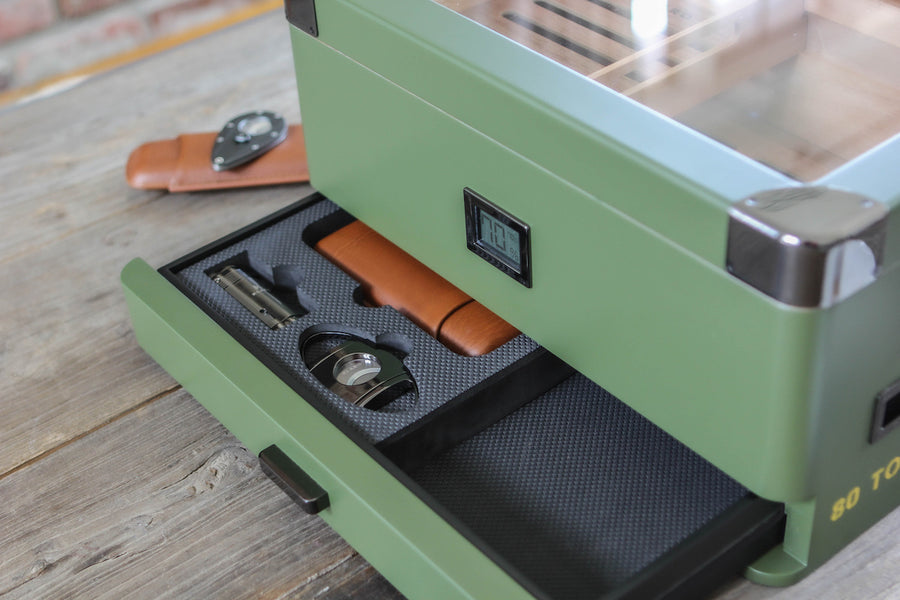 Military Foam Storage
An accessory drawer like no other. Inspired by military foam cases, the protective EVA foam is cut to fit the Gunmetal Accessory Kit by Klaro. Feel free to remove the cut-out section or use your own accessories. Never be caught without your smoking essentials (Accessories Not Included).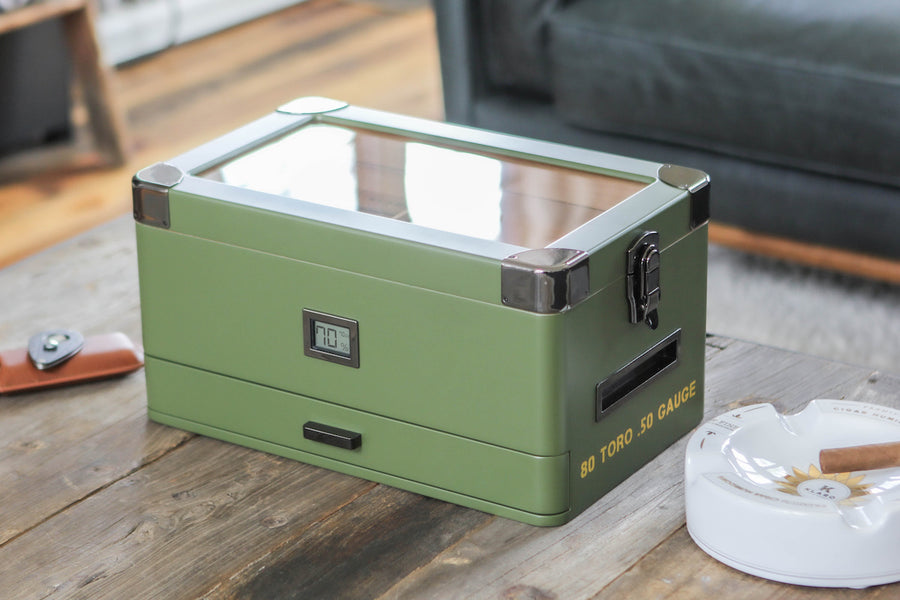 Aficionado Approved
Inspired by military footlockers, this tank of a humidor is constructed out of thick, high-quality cedar that locks in humidity. Every detail of the Military Humidor has been refined, including the matte military green finish, custom gunmetal hardware, and unique drawer storage. All hardware is plated in a polished gunmetal finish.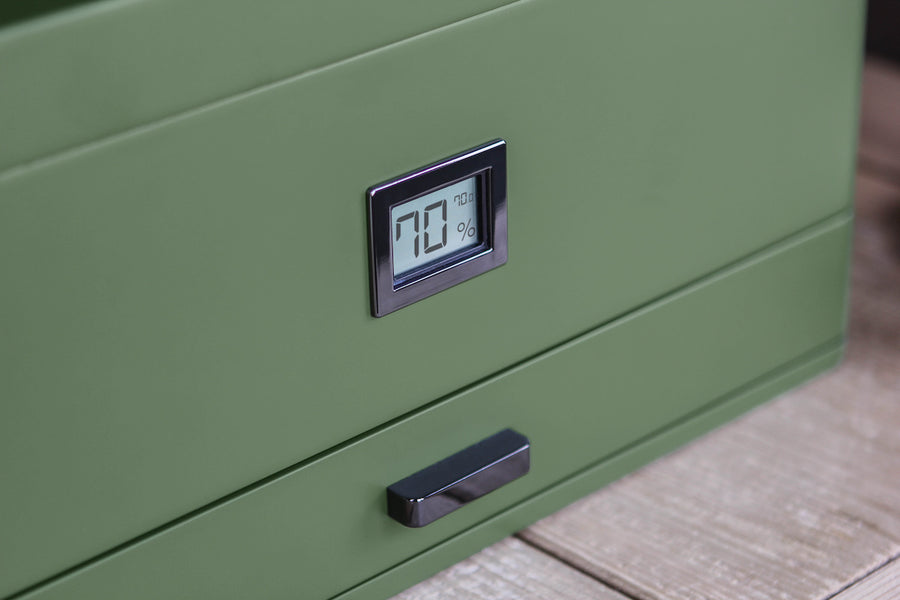 Digital Precision
Our custom-built digital hygrometers are the most accurate way to monitor your humidor's humidity, ensuring your smokes are flawlessly seasoned. The ideal humidity range for Klaro humidors is 65-72%. The front metal cover was custom-molded and plated in a stunning polished gunmetal finish.
---