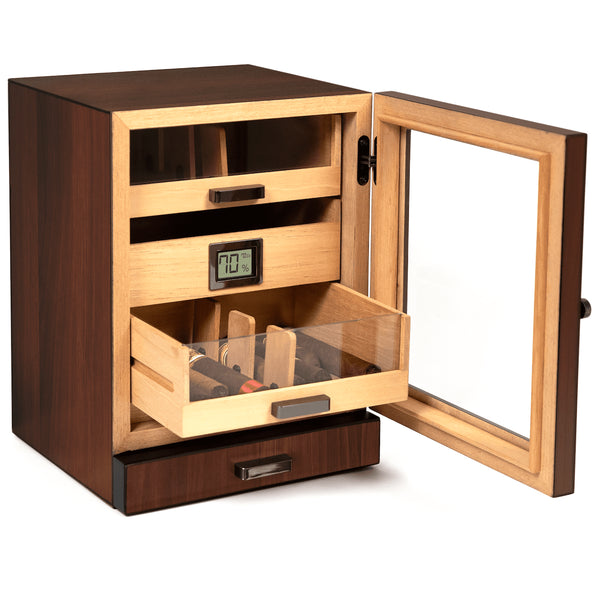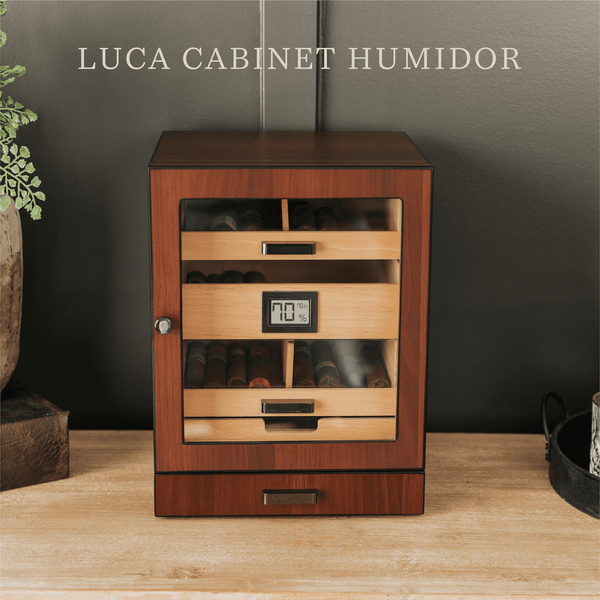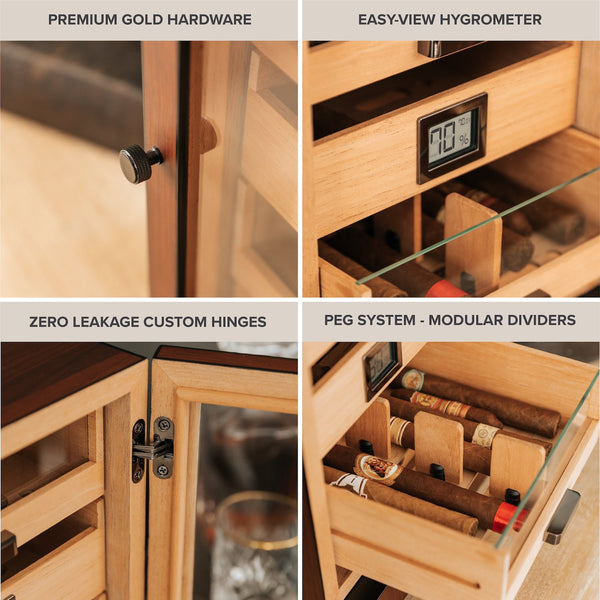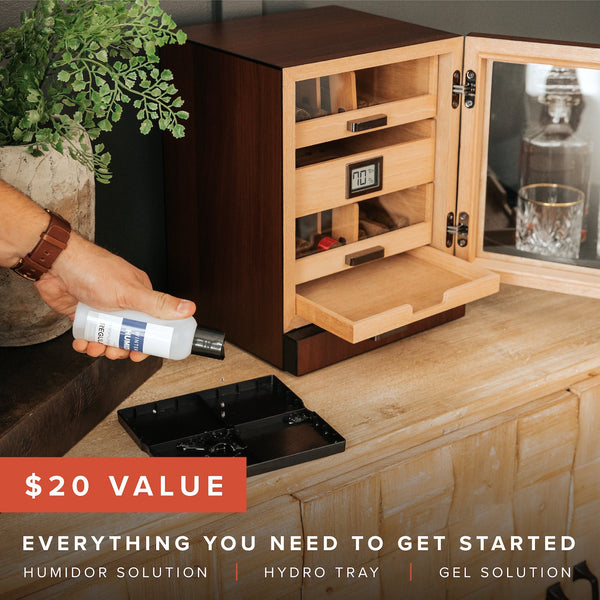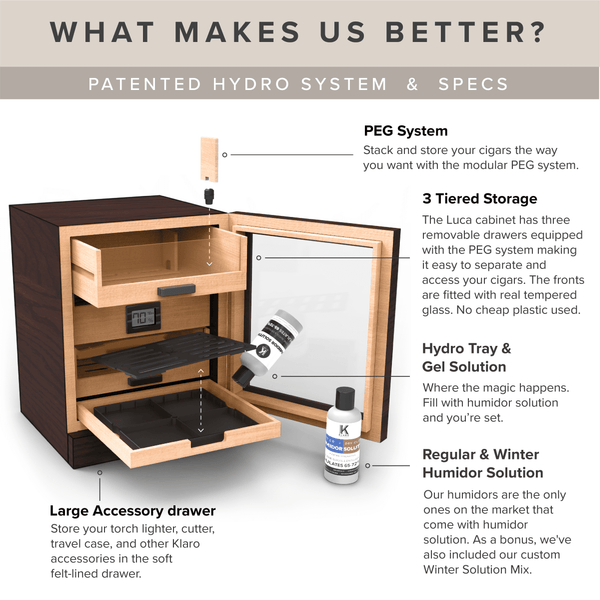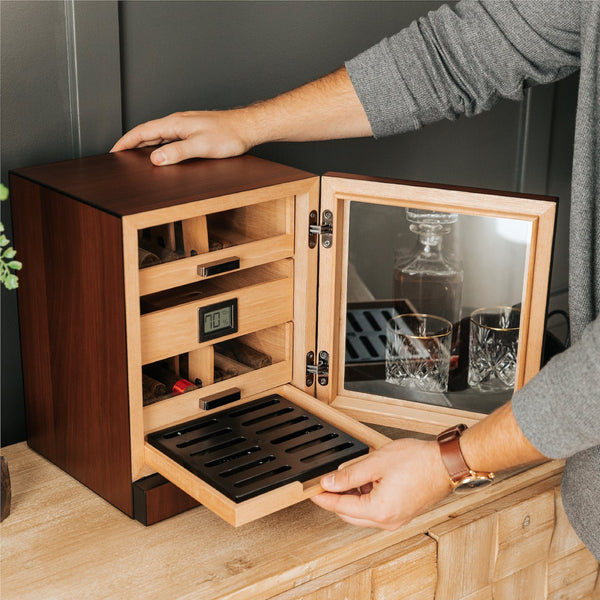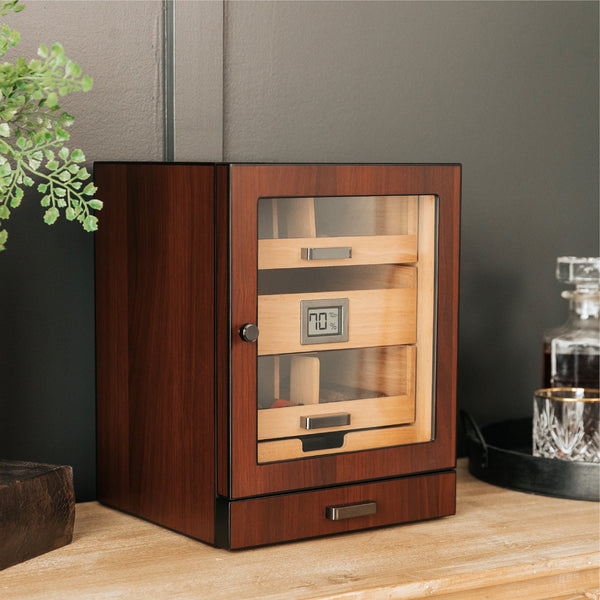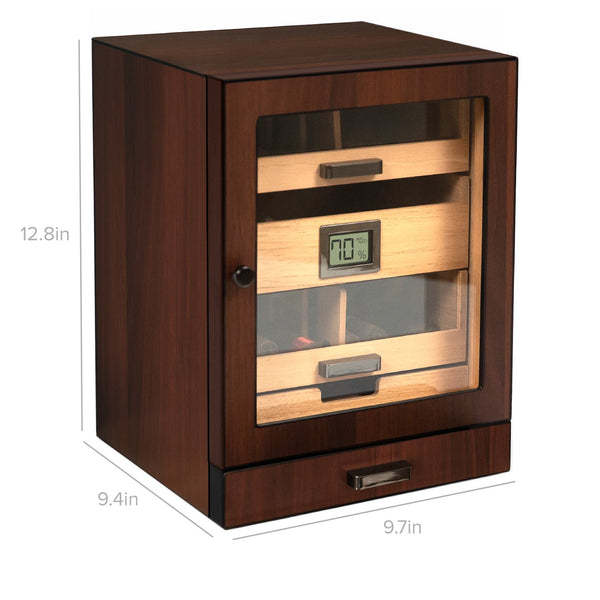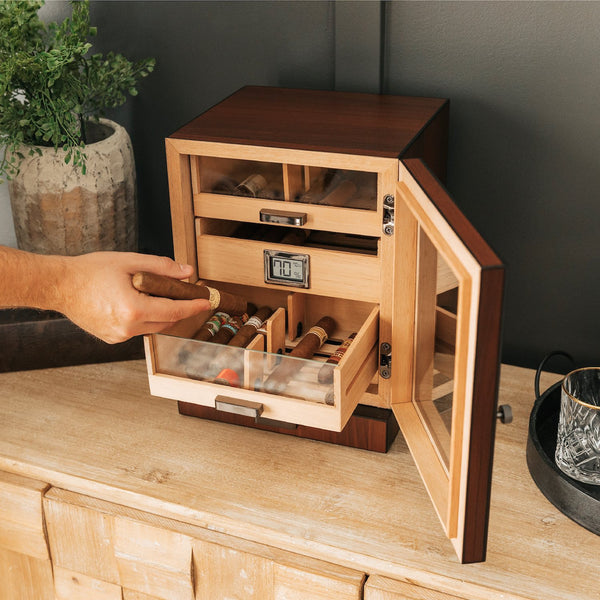 KLARO HUMIDORS - HOW WE'RE DIFFERENT
COMPLETE HUMIDIFICATION SYSTEM
Klaro humidors will be the easiest humidor you've ever seasoned and maintained. Comes with everything you need including 2 bottles of humidor solution, a pack of gel crystals and the hydro tray. Of course we give you detailed written and video instructions, backed by amazing support so we'll be with you every step of the way.
ACCURATE HYGROMETER
Our digital hygrometers are silicone gasket sealed from back to front, and include the most accurate european sensor on the market. You'll never have to wonder whether your cigars are taken care of.
MORE CEDAR
Klaro humidors have more Spanish cedar than any other brand on the market. Spanish cedar keeps away cigar beetles and makes sure your cigars are always the right humidity.
TIGHT SEAL
Our seals have been re-engineered to ensure an incredibly air-tight fit. We have custom rear hinges that lock in the seal. We also have super fat cedar coamings that will expand as your humidity increases to really ensure your smokes stay fresh for the long haul.
LUCA HUMIDOR CABINET - BROWN WALNUT
The function and aesthetics you trust reimagined in a larger, more complete humidor–that's Luca. This new humidor cabinet includes Klaro's innovative features that pair high storage capacity with greater performance. The Luca cabinet has three removable drawers equipped with the PEG system making it easy to separate and access your cigars. We've added embedded 180-degree hinges, so you can effortlessly access the drawers without scratching the door. We've also made it easier to access your Hydro Tray through a separate storage tray for stream-lined humidification refills. All your cigar tools like torch lighters, cutters, and cases fit comfortably in our felt-lined accessory drawer –a first-in humidor cabinet design.

Finished with a classic brown walnut and modernized with a sleek glass door, the Luca comes with everything you've come to expect from Klaro humidors: a thick Spanish cedar inlay, an amazingly accurate gasket-sealed built-in digital hygrometer, and the patent-pending Hydro System humidifier. Enjoy two free bottles of our Humidor Solution out of the box to help kickstart your seasoning process. A worthy upgrade for any humidor setup.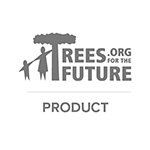 We have partnered with Trees for the Future to offset the wood manufacturing in our products. We plant one tree for every wooden product we sell.
LARGE HUMIDOR CABINET CAPACITY - This cabinet humidor stores 80-100 cigars in three fully removable drawers with real tempered glass fronts. No corners were cut by using cheap plastic. Each drawer features our patent-pending PEG system, allowing you to organize and store your stogies any way you like. True flexibility.

INCLUDES HUMIDOR SOLUTION - The Luca features a separate, extending drawer to house the Hydro Tray for easy access, so no more handling or removing cigars to refill your tray with humidor solution. The Hydro System is the easiest out-of-the-box solution for humidor seasoning and humidity maintenance. We've included 2 bottles of humidor solution, one regular humidor solution, and one uniquely formulated winter mix and dry climate mix.

CABINET-STYLE MAGNETIC DOOR - The best seal in the game. The Luca glass door is fitted with strong magnets to eliminate air leakage. We've gone the extra mile by incorporating custom metal hardware and handles, including embedded 180-degree hinges that allow for easy access to the cigar drawers, more than any cabinet humidor on the market.

MORE CEDAR = STABLE HUMIDOR - A thick Spanish cedar back wall helps regulate the humidity inside the cabinet resulting in less maintenance and better performance. While lesser humidors include a thin 0.2mm cedar veneer, Luca's Spanish cedar is 5mm thick to help keep those stogies fresh and ready to smoke.

CABINET-EXCLUSIVE ACCESSORY DRAWER - The Luca humidor cabinet features a large accessory drawer, the first-ever design on any cabinet-style humidor. Store your torch lighters, travel case, cigar cutters, and other accessories in this soft, felt-lined drawer. No more misplacing your cigar-smoking essentials.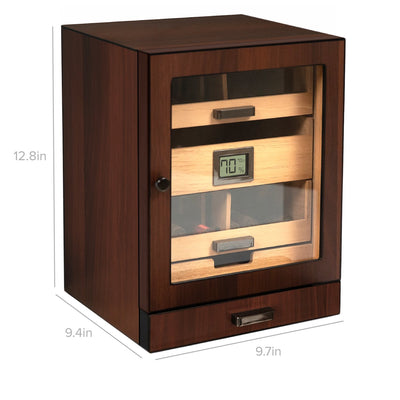 Black Ash Wood

Solid Spanish cedar 
Premium gold-plated hardware

Includes full Hydro System ™ (Hydro Tray™ and two bottles of Klaro Humidor Solution)
Felt lined drawer
Tempered glass door and drawer fronts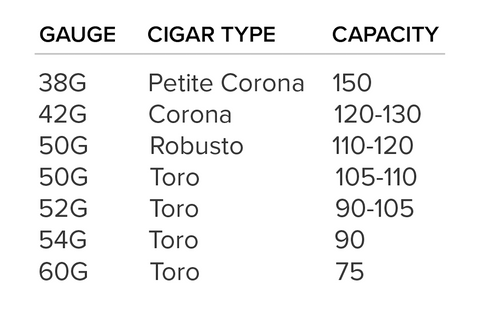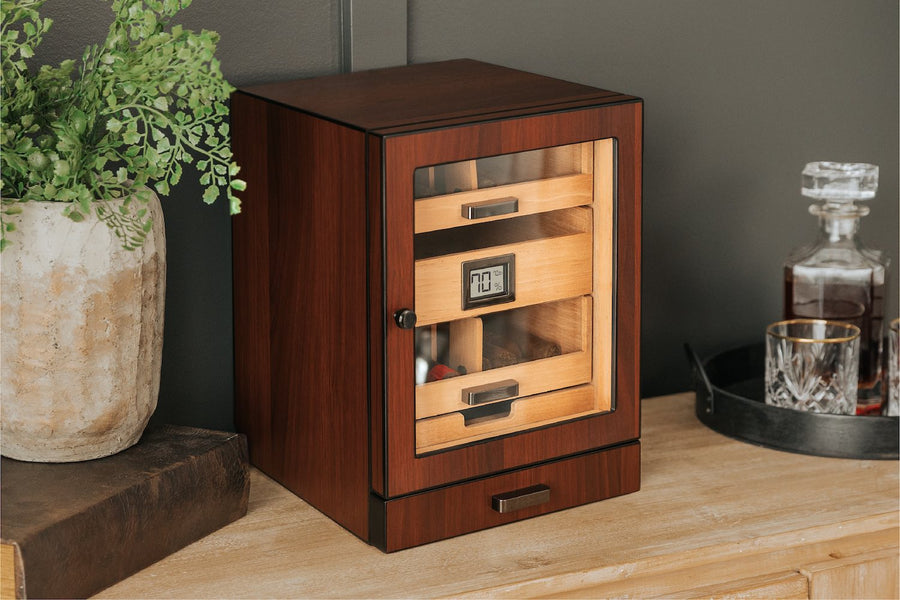 THE NEXT EVOLUTION
Take the next step in Klaro's evolution of the ultimate home humidor setup with the Walnut wood finish Luca cabinet humidor. More space. More accessibility. More control. All with the Klaro features and functions you know and trust.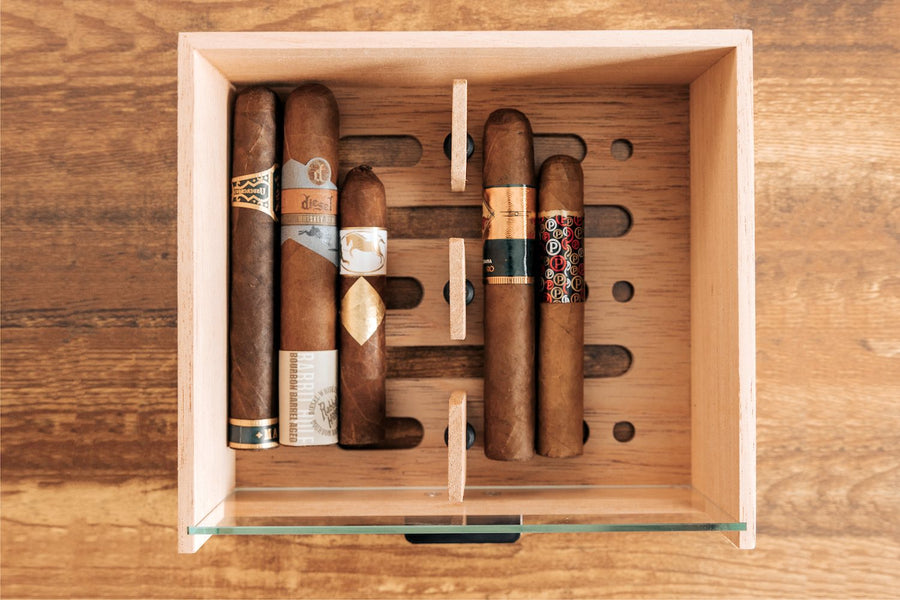 MORE STORAGE
Three separate humidor cigar trays, an accessory drawer, and a drawer designed to house the Hydro Tray allow easy access across the board with the Luca. Plus, 180-degree embedded hinges for a fully opening cabinet door.
A SHOWCASE-WORTHY HUMIDOR
The Luca is well-suited for public display. Featuring a rich Walnut wood finish, viewable trays for your cigars, custom metal hardware and handles, and non-slip rubber pads at the base to protect furniture and floors. Show off your cigars with a humidor cabinet you can show off, too.
---