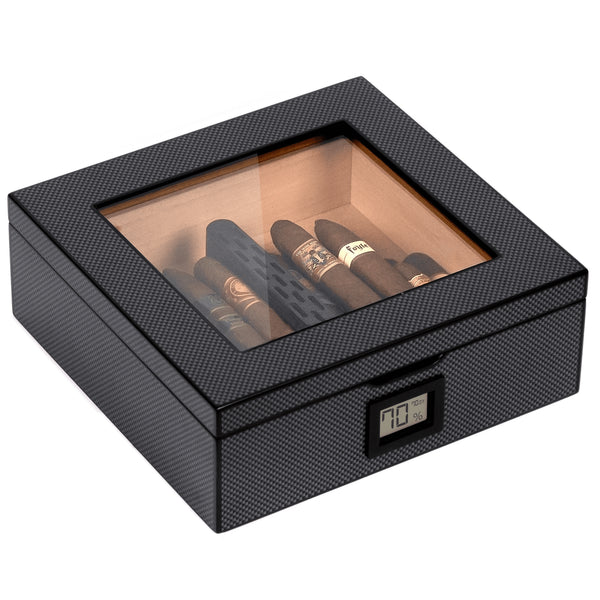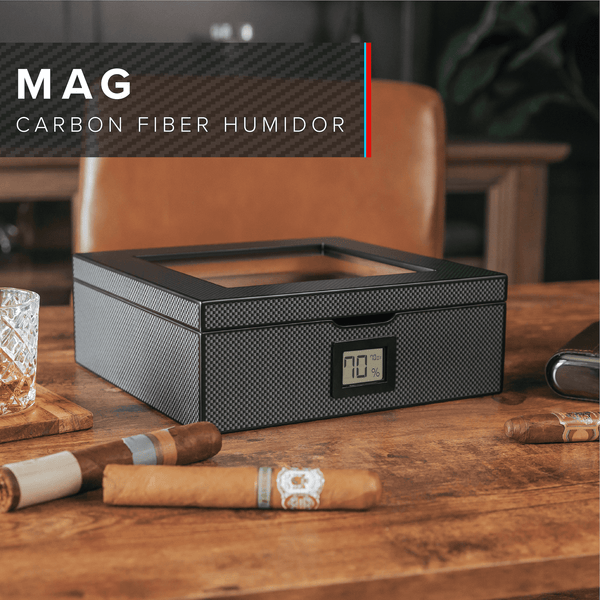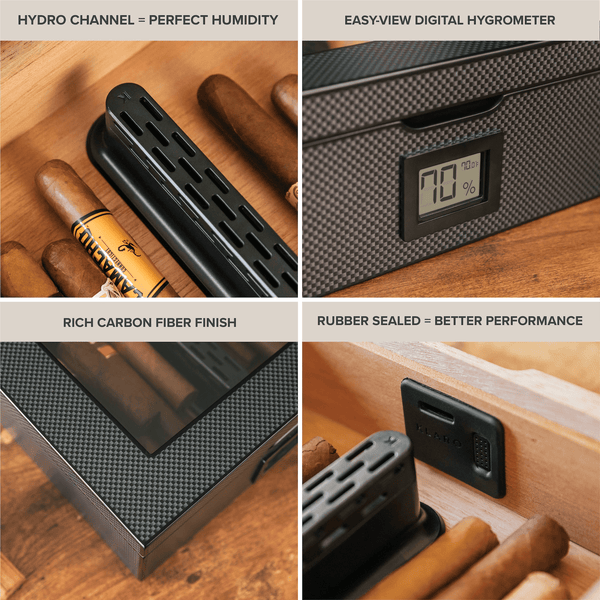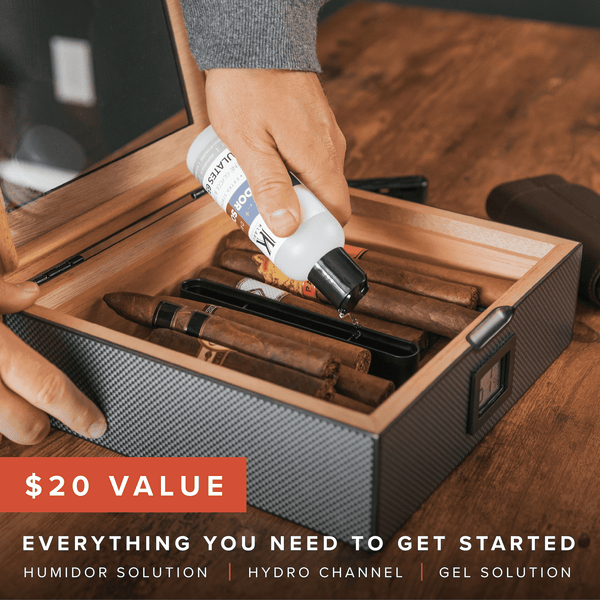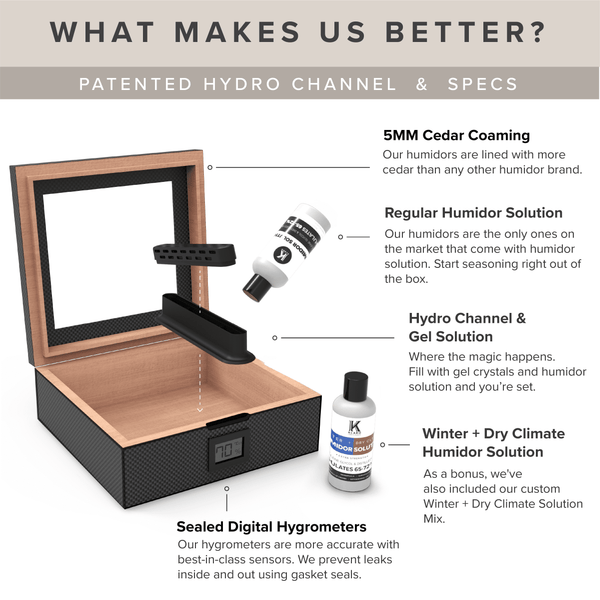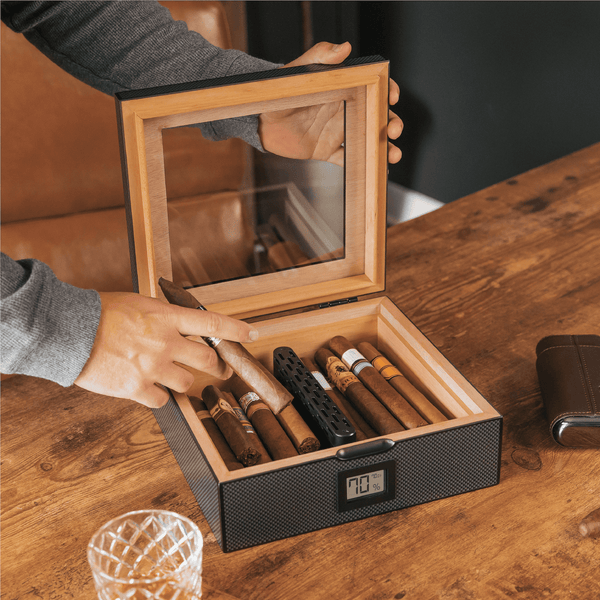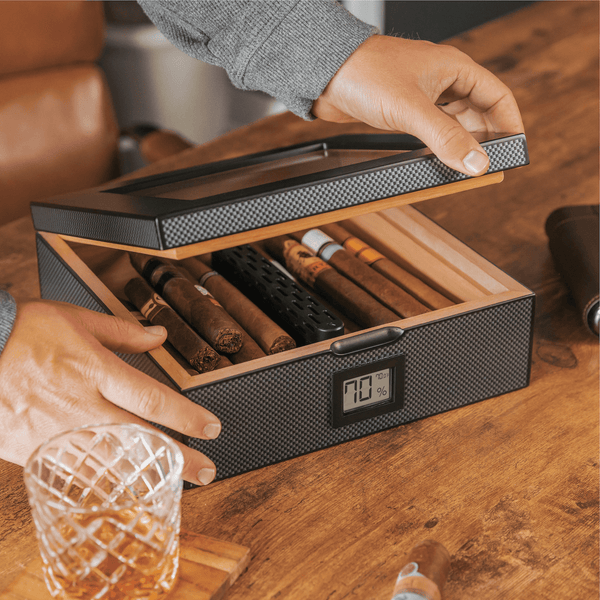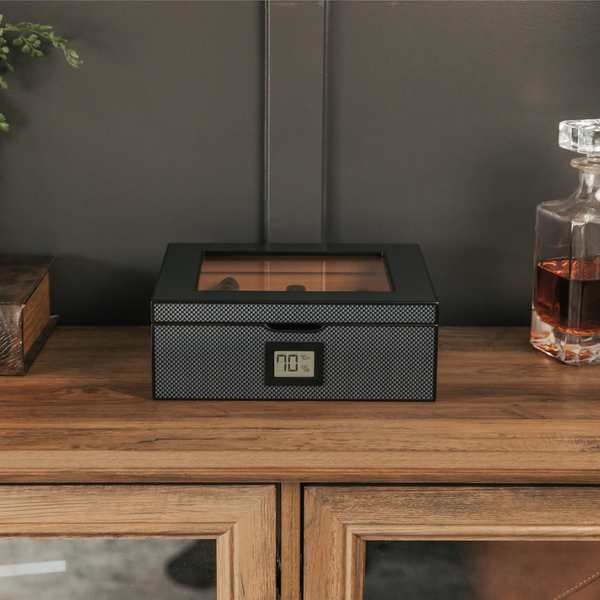 KLARO HUMIDORS - HOW WE'RE DIFFERENT
COMPLETE HUMIDIFICATION SYSTEM
Klaro humidors will be the easiest humidor you've ever seasoned and maintained. Comes with everything you need including 2 bottles of humidor solution, a pack of gel crystals and the hydro tray. Of course we give you detailed written and video instructions, backed by amazing support so we'll be with you every step of the way.
ACCURATE HYGROMETER
Our digital hygrometers are silicone gasket sealed from back to front, and include the most accurate european sensor on the market. You'll never have to wonder whether your cigars are taken care of.
MORE CEDAR
Klaro humidors have more Spanish cedar than any other brand on the market. Spanish cedar keeps away cigar beetles and makes sure your cigars are always the right humidity.
TIGHT SEAL
Our seals have been re-engineered to ensure an incredibly air-tight fit. We have custom rear hinges that lock in the seal. We also have super fat cedar coamings that will expand as your humidity increases to really ensure your smokes stay fresh for the long haul.
MAG Humidor - Carbon Fiber
Introducing the MAG Carbon Fiber finish, a humidor in a class of its own. Its sporty carbon fiber finish sets it apart from the rest. Inside, you'll find a thick 5mm Spanish cedar inlay that helps maintain optimal humidity levels. Stay on top of your humidor's performance with the built-in gasket-sealed digital hygrometer, providing exact relative humidity (RH) and temperature readings. To ensure you have everything you need, the MAG comes complete with two bottles of our humidor solution, gel crystals, and the Hydro Channel. Thanks to the new Hydro Channel, your humidor is ready out of the box and offers regulated humidity through a single perforated tube. This clever design takes up minimal space, allowing you to stack cigars alongside it on the curved base. The MAG effortlessly combines humidification, accurate hygrometer readings, and a convenient cigar organization system, making it the perfect all-purpose, mid-sized humidor.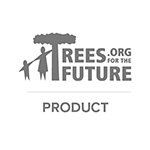 We have partnered with Trees for the Future to offset the wood manufacturing in our products. We plant one tree for every wooden product we sell.
PACKED WITH SPANISH CEDAR WOOD – At Klaro, we prioritize quality. Unlike other humidors that use a mere 0.2mm thick cedar veneer, our MAG humidor boasts a Spanish cedar inlay that is a substantial 5mm thick. This ensures superior moisture absorption, storage, and release, effectively regulating optimal humidity levels.

THE HYDRO CHANNEL – The new Hydro Channel by Klaro makes humidity control a breeze. This innovative system features perforated holes on the top and sides of the channel lid, enabling natural evaporation to humidify every corner of your humidor evenly. Not only does it ensure thorough humidification, but it also acts as a convenient divider for organizing your precious cigars.

THE PERFECT SIZE – Despite its compact size, the MAG humidor proudly holds an impressive capacity of 20-30 cigars. We have ingeniously redesigned our humidification system to occupy minimal space without compromising performance.

SOLUTION BOTTLES INCLUDED – We provide you with two different types of our specially-formulated Humidor Solutions, both the Regular mixture and the Winter + Dry Climate mixture, to add to your Hydro Channel for super-simple seasoning.

DIGITAL ACCURACY – Accuracy is the chief priority of your humidor. From a magnetic lid that ensures no humidity leakage to our gasket-sealed digital hygrometer, we take every step in the design process to eliminate humidity fluctuation inside your humidor. Have a piece of mind knowing your cigars are covered.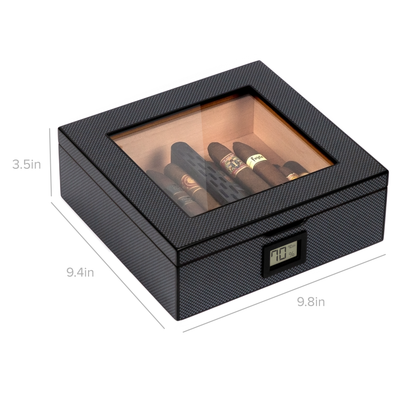 Carbon Fiber Finish
Solid Spanish cedar
Includes full Hydro System ™ (Hydro Tray™ and two bottles of Klaro Humidor Solution)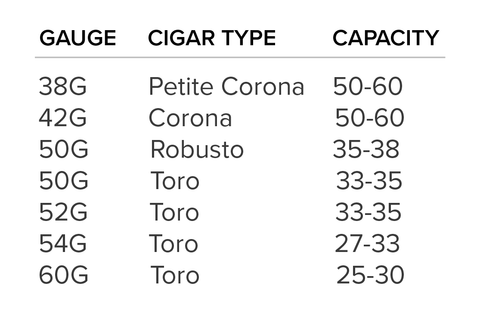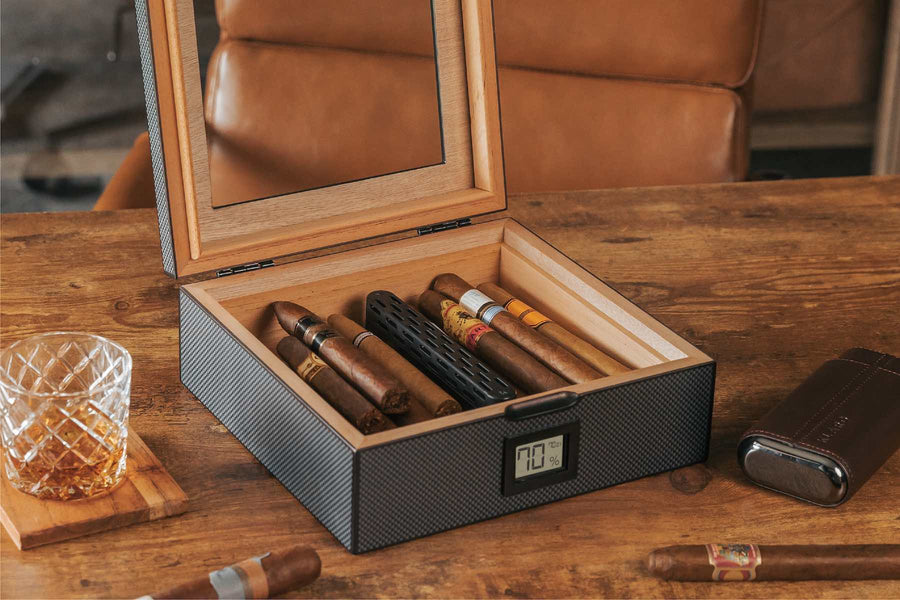 Experience Peak Performance in a Compact Size
Equipped with our top-performing humidification system, this all-inclusive package has everything you need to keep your humidor in optimal condition. Despite its compact size, the MAG offers ample storage space for up to 20/30 cigars.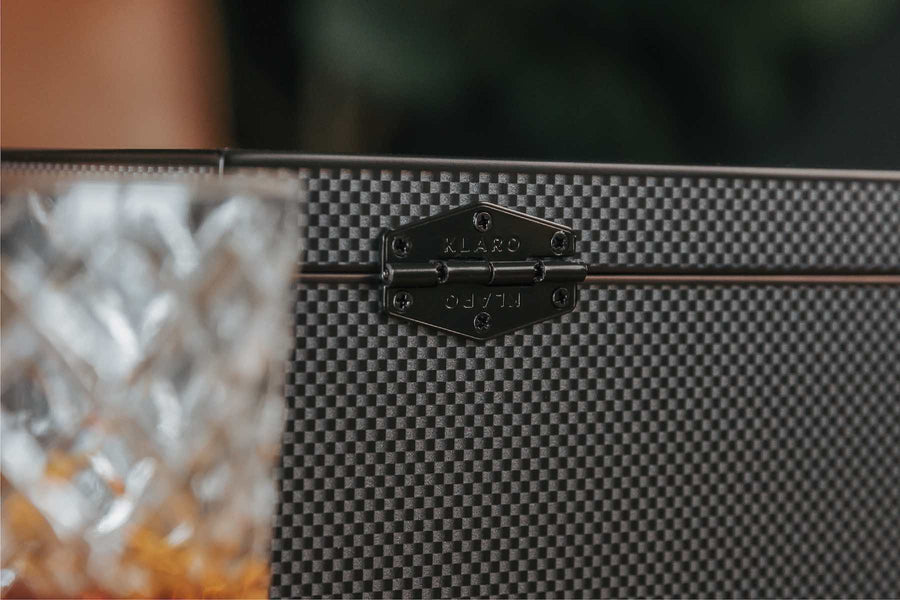 An Immediate Classic
Experience contemporary elegance with the sleek carbon fiber design of the MAG. Its clean lines, straight edges, and discreet thumbhole lid opening showcase a low-profile aesthetic. With ample space and a touch of boldness, the MAG strikes the perfect balance for modern sophistication.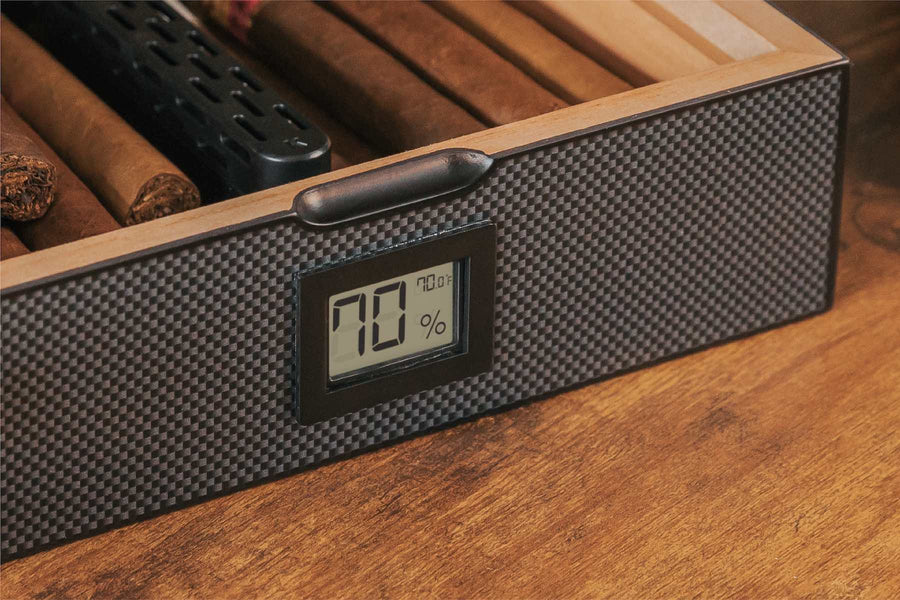 Top-Notch Digital Hygrometers
Equipped with our premium gasket-sealed digital hygrometer, the MAG ensures the most reliable and precise readings. Specifically designed with sensors that penetrate deeper into the humidor, you can trust it to provide the perfect humidity measurements for your cherished cigar collection.
---