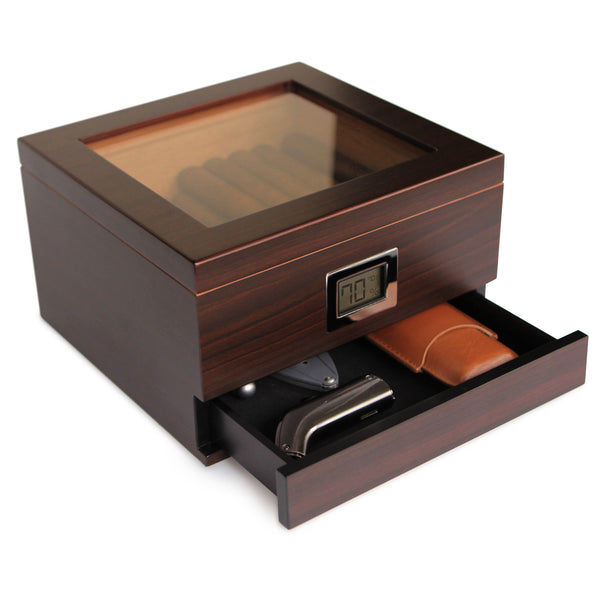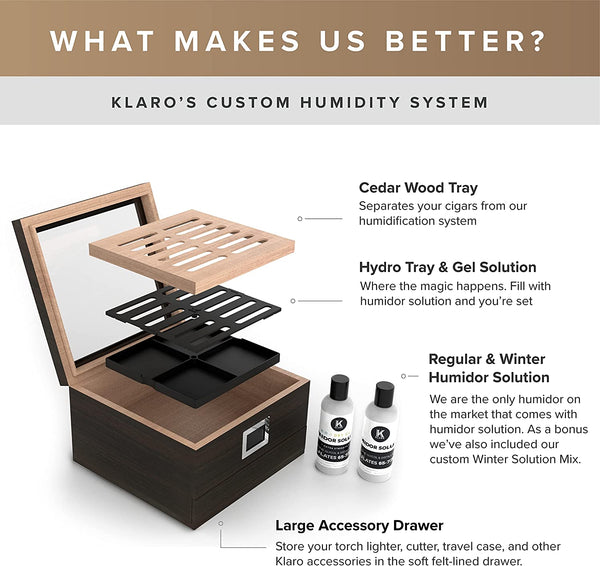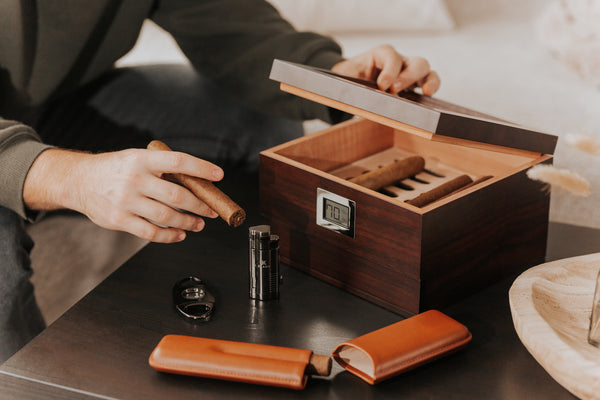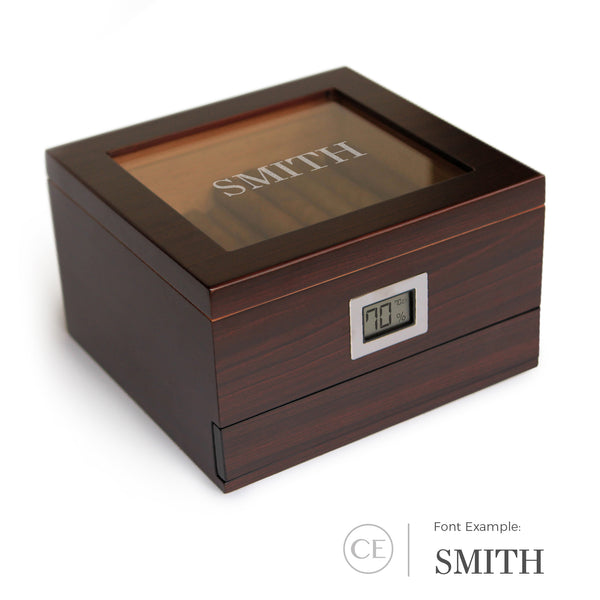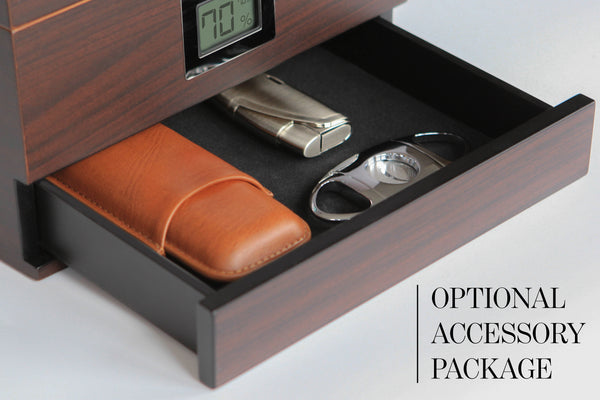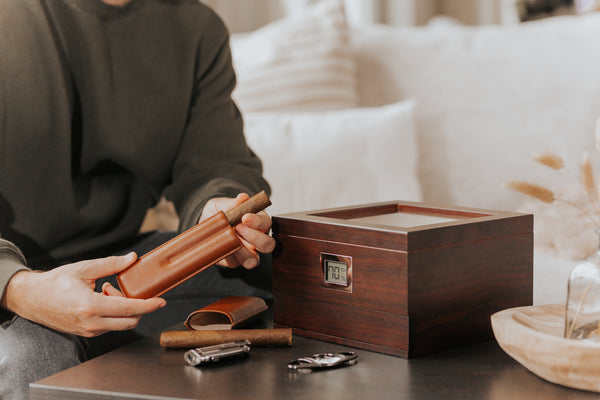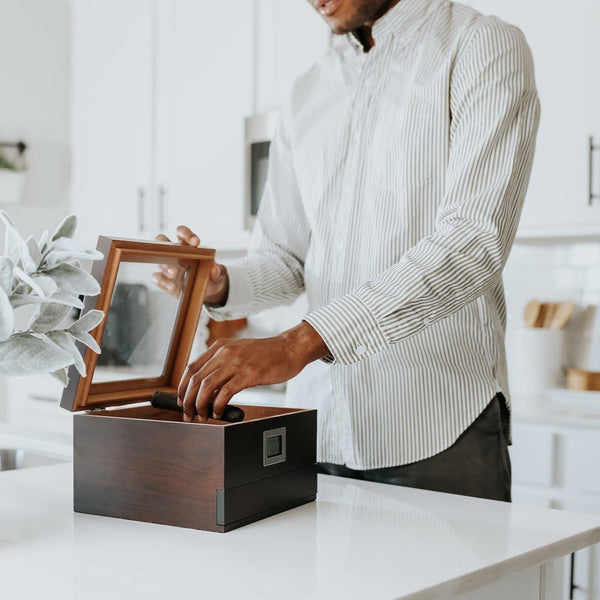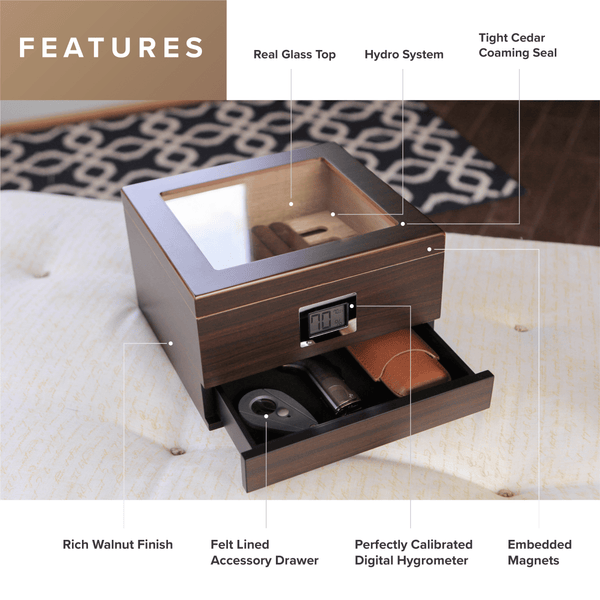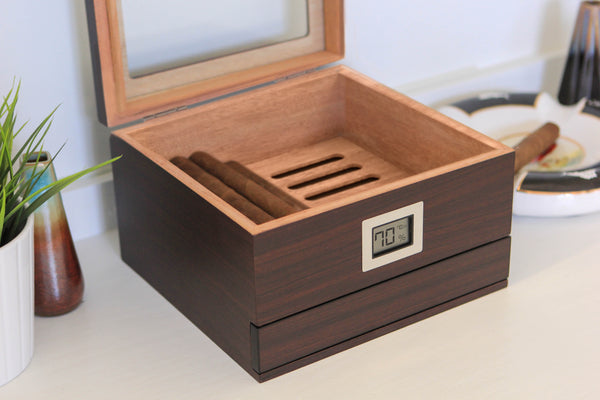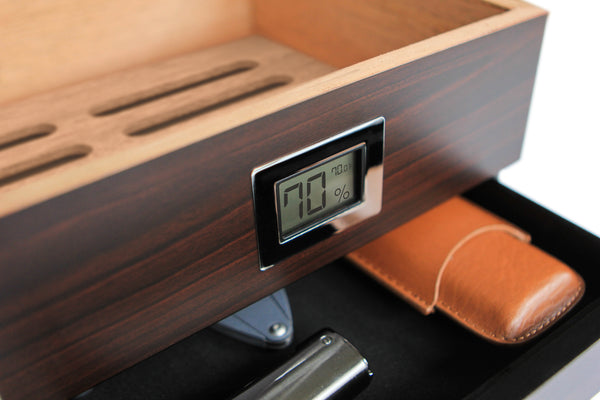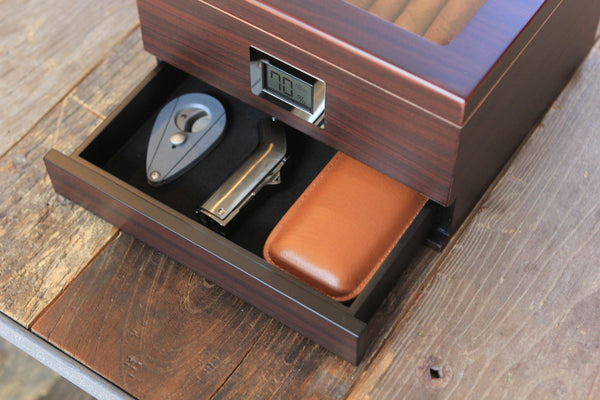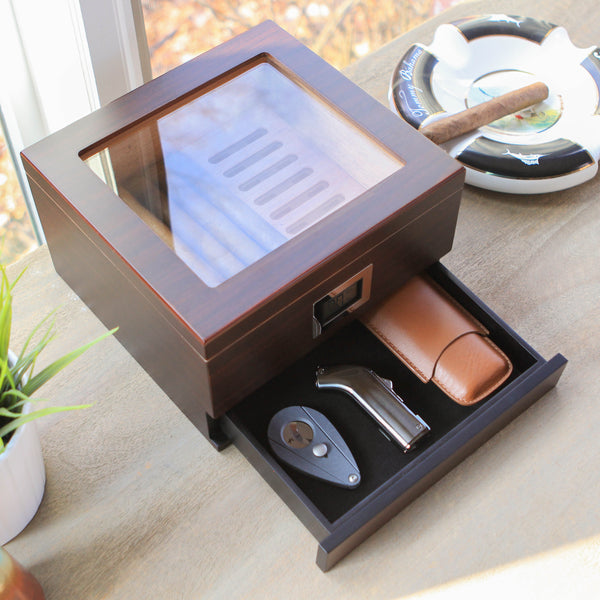 KLARO HUMIDORS - HOW WE'RE DIFFERENT
COMPLETE HUMIDIFICATION SYSTEM
Klaro humidors will be the easiest humidor you've ever seasoned and maintained. Comes with everything you need including 2 bottles of humidor solution, a pack of gel crystals and the hydro tray. Of course we give you detailed written and video instructions, backed by amazing support so we'll be with you every step of the way.
ACCURATE HYGROMETER
Our digital hygrometers are silicone gasket sealed from back to front, and include the most accurate european sensor on the market. You'll never have to wonder whether your cigars are taken care of.
MORE CEDAR
Klaro humidors have more Spanish cedar than any other brand on the market. Spanish cedar keeps away cigar beetles and makes sure your cigars are always the right humidity.
TIGHT SEAL
Our seals have been re-engineered to ensure an incredibly air-tight fit. We have custom rear hinges that lock in the seal. We also have super fat cedar coamings that will expand as your humidity increases to really ensure your smokes stay fresh for the long haul.
The Perfect Humidor 
Introducing the Renzo Glass Top Humidor. This humidor is the staple humidor by Klaro and has undergone years of research and extensive testing to solve every shortcoming we experienced with other humidors. We have thoroughly examined this humidor in wet, temperate, and dry environments to assure the best levels of humidity for your cigars. This premium humidor features a handsome dark walnut finish, glass top, front digital hygrometer, accessory storage drawer, Spanish cedar, magnetic enclosure, and the patent-pending Hydro System™. This is the most complete cigar humidor out there.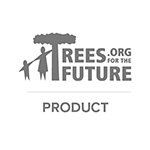 We have partnered with Trees for the Future to offset the wood manufacturing in our products. We plant one tree for every wooden product we sell.
DIGITAL HYGROMETER- The Renzo Humidor comes with an embedded pre-calibrated digital hygrometer that accurately reads the humidity levels. Create the ideal environment for your cigars.

ACCESSORY STORAGE - Properly store your lighter, cigar cutters, and even a travel case in the large bottom slide-out accessory storage drawer. The minimal design tastefully sits flush against the humidor when closed. (Accessories Not Included)

HYDRO SYSTEM - an accurate and low maintenance cigar humidification system that regulates your CE humidor to 65-70% relative humidity. This patent-pending design evenly distributes the humidity from edge to edge while eliminating that awkward space taken up by a humidification jar.

GLASS DISPLAY TOP - The top lid boasts a large stunning tempered glass display properly showing off your collection of fine smokes.

SPANISH CEDAR - Real Spanish cedar coaming and inlay makes this humidor a moisture-holding machine. Keep those smokes just how you like them.

If it's not MAGNETICALLY SEALED it's not a Case Elegance humidor. The magnetic enclosure creates an amazingly tight seal and easily passes the dollar bill test.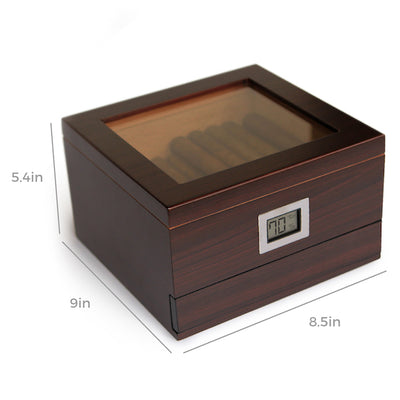 Wood construction with a beautiful matte walnut finish.
Felt-lined bottom accessory drawer
Full cedar lining to help retain moisture
Includes full Hydro System

™ (Hydro Tray™, Hydro Stick™, Klaro Humidor Solution)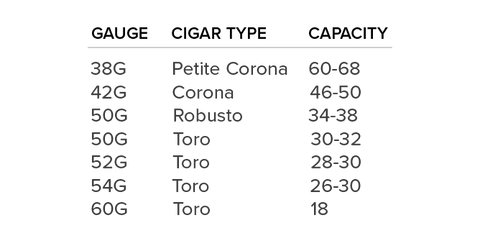 Walkthrough & Seasoning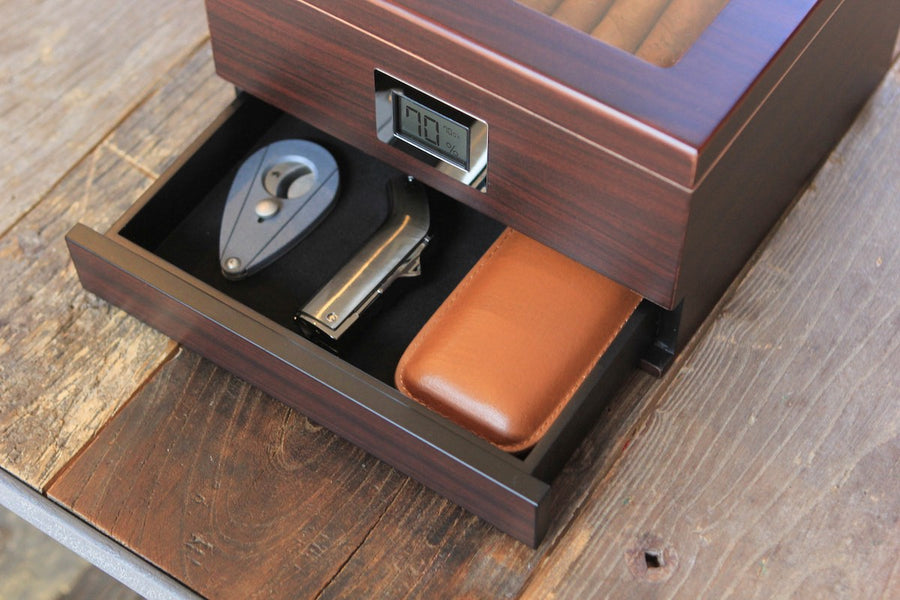 Accessory Storage
Don't be caught without your cigar accessories again. Properly store your lighter, cutter, or even a traveling case in the bottom felt lined pull-out drawer.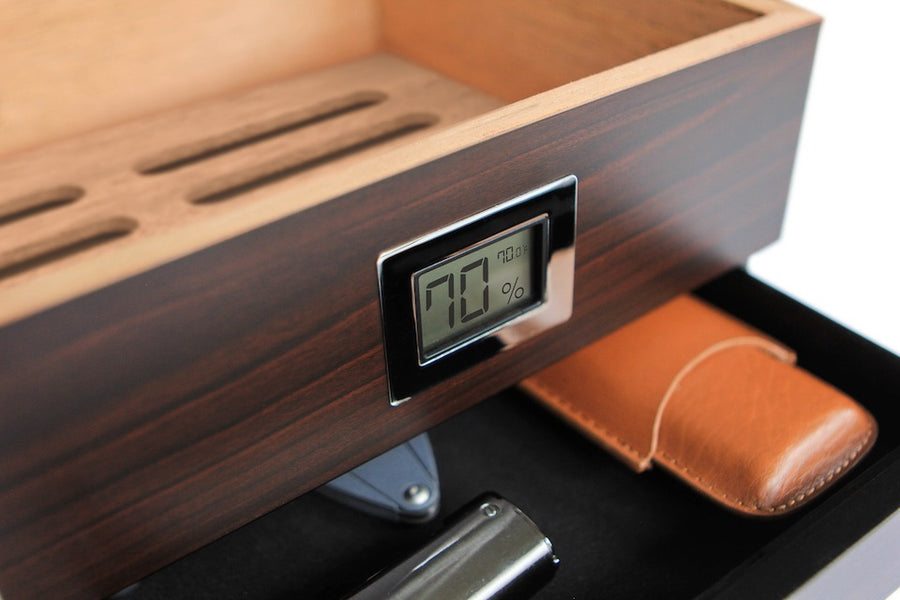 Digital Accuracy
Digital is the most accurate way to monitor and ensure your humidor is adequately seasoned. Klaro Hygrometers come pre-calibrated and are accurate within 1-3% points. Protect your smokes by confidently knowing the humidity.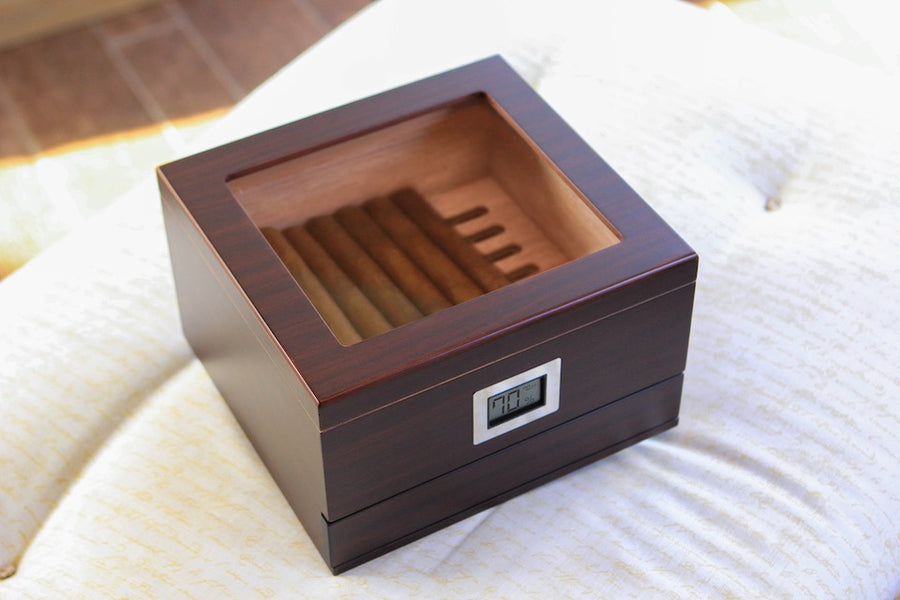 Real Glass Top
The handcrafted lid is comprised of real tempered glass and provides the perfect viewing window for your quality smokes.
---