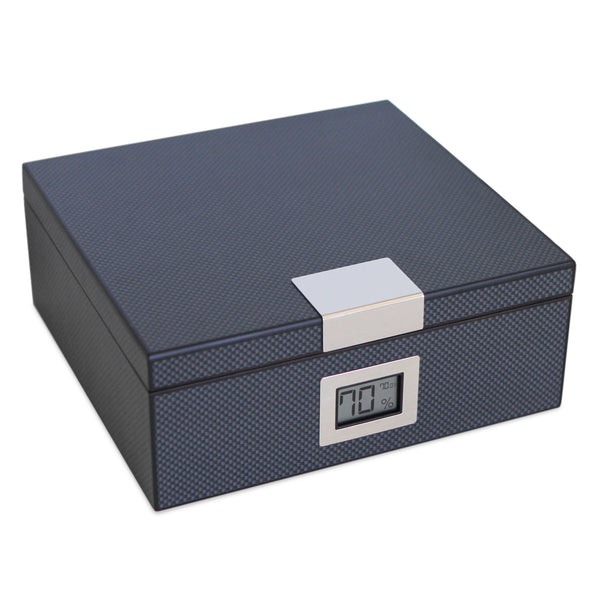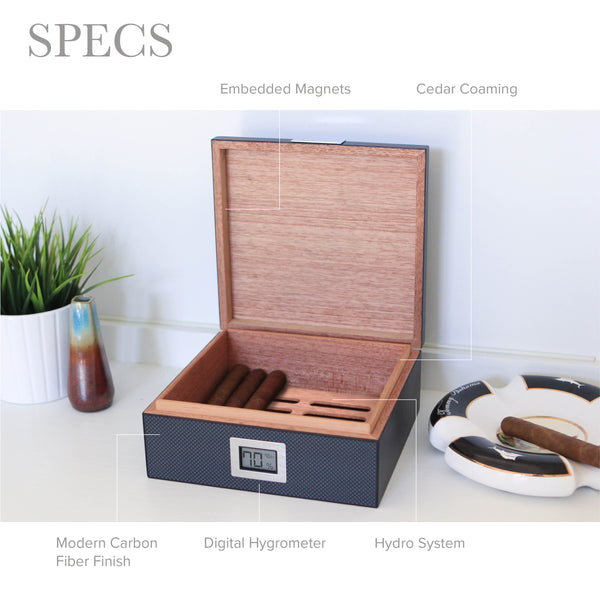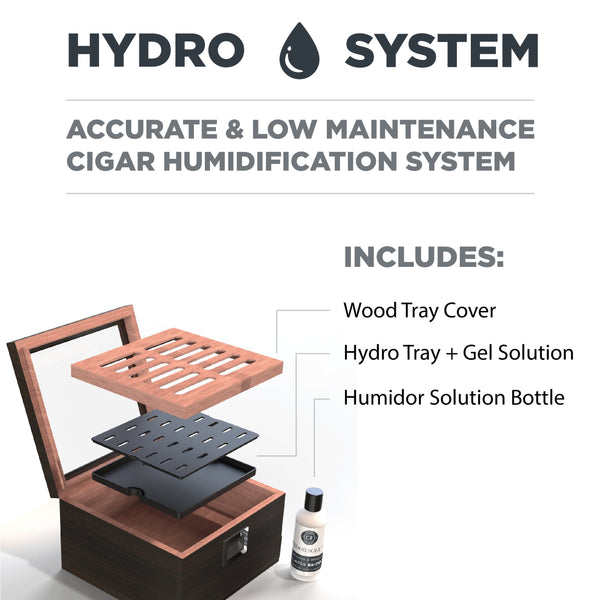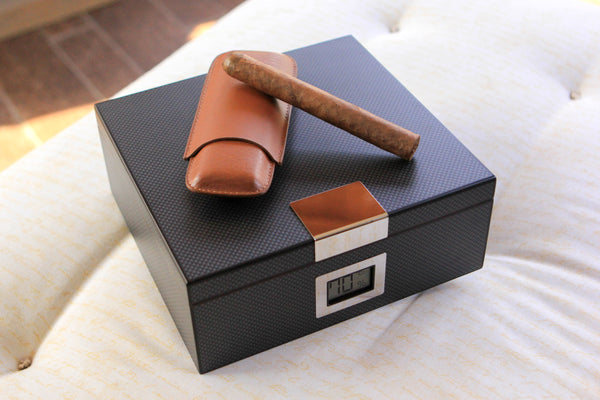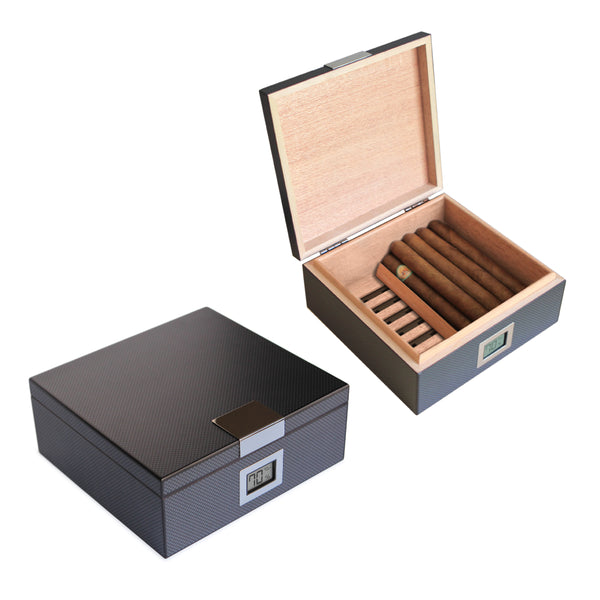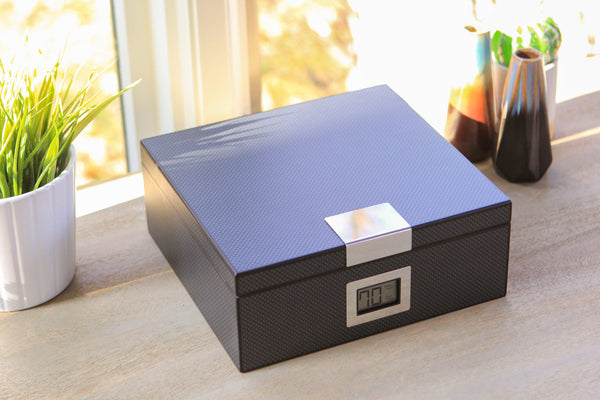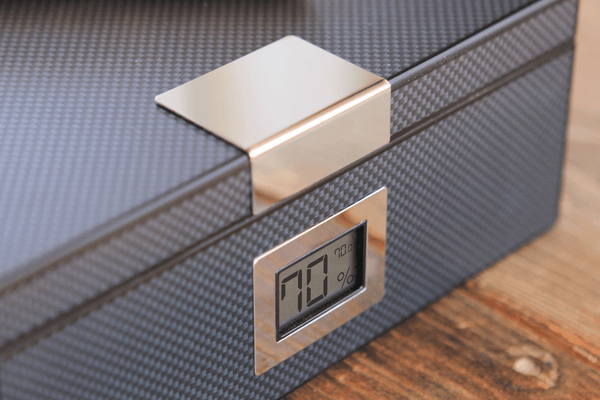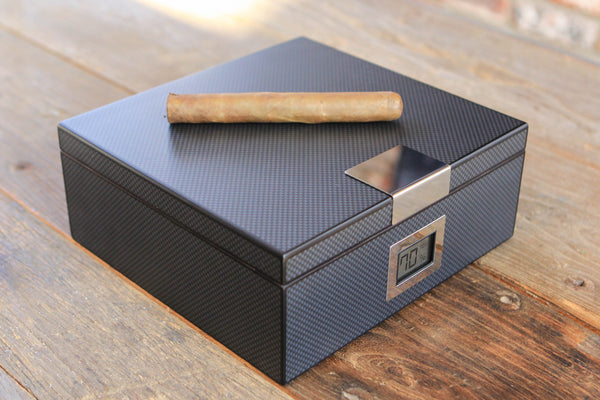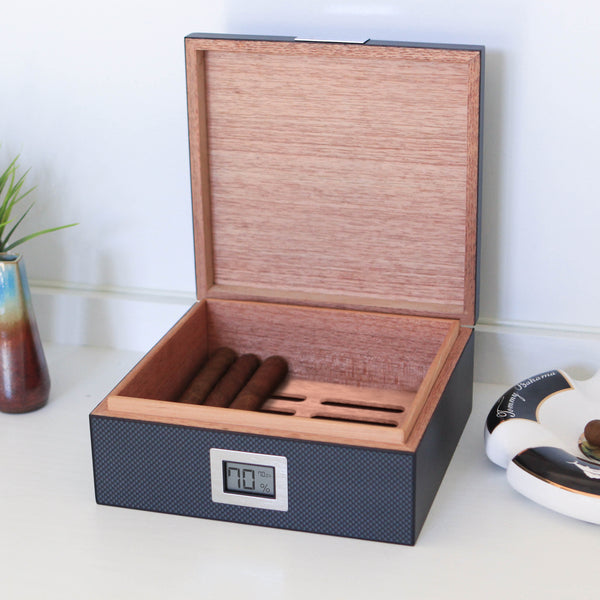 KLARO HUMIDORS - HOW WE'RE DIFFERENT
COMPLETE HUMIDIFICATION SYSTEM
Klaro humidors will be the easiest humidor you've ever seasoned and maintained. Comes with everything you need including 2 bottles of humidor solution, a pack of gel crystals and the hydro tray. Of course we give you detailed written and video instructions, backed by amazing support so we'll be with you every step of the way.
ACCURATE HYGROMETER
Our digital hygrometers are silicone gasket sealed from back to front, and include the most accurate european sensor on the market. You'll never have to wonder whether your cigars are taken care of.
MORE CEDAR
Klaro humidors have more Spanish cedar than any other brand on the market. Spanish cedar keeps away cigar beetles and makes sure your cigars are always the right humidity.
TIGHT SEAL
Our seals have been re-engineered to ensure an incredibly air-tight fit. We have custom rear hinges that lock in the seal. We also have super fat cedar coamings that will expand as your humidity increases to really ensure your smokes stay fresh for the long haul.
A Modern Humidor Finish 
Introducing the Kingston Carbon Fiber Finish Humidor. We found out the hard way that seasoning your cigars can be a tricky process and ends up being largely inaccurate. To solve this industry-wide problem, we carefully embedded a digital hygrometer in the front of the humidor that will precisely monitor the humidity levels. We have thoroughly examined this humidor in wet, temperate, and dry environments to assure the best levels of humidity for your cigars. This premium humidor features a modern carbon fiber finish, front digital hygrometer, patent-pending Hydro System, Spanish cedar, and the tightest magnetic enclosure on the market.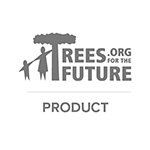 We have partnered with Trees for the Future to offset the wood manufacturing in our products. We plant one tree for every wooden product we sell.
CARBON FIBER FINISH - This humidor is finished with a modern and sleek carbon fiber design. The lid is fitted with a modern polish steel clip that can be monogrammed.

REAL SPANISH CEDAR - Real Spanish cedar coaming and inlay makes this humidor a moisture-holding machine. Keep those smokes just how you like them.

DIGITAL HYGROMETER - A staple of Klaro humidors is the built-in digital hygrometer. This is the most accurate way to monitor and ensure your humidor is adequately seasoned. 

PERFECT HUMIDIFICATION - The Hydro System is a built-in humidification system that keeps your Klaro humidor perfectly seasoned between 65% to 72% RH. Included is one 120ml bottle of humidor solution. We recommend purchasing a Klaro Subscription to ensure your humidor is seasoned year-round.

If it's not MAGNETICALLY SEALED, it's not a Klaro humidor. The magnetic enclosure creates an amazingly tight seal and easily passes the dollar bill test.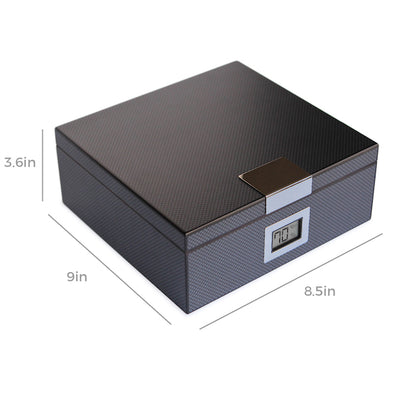 Wood construction with a matte modern carbon fiber finish
Full cedar lining to help retain moisture

Includes full Hydro System

Custom molded polished clip for sleek modern appeal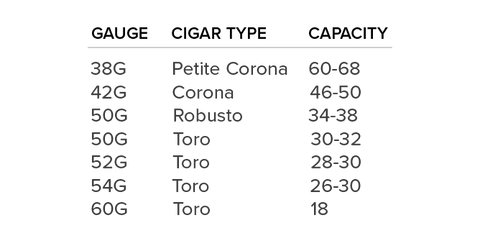 Walkthrough & Seasoning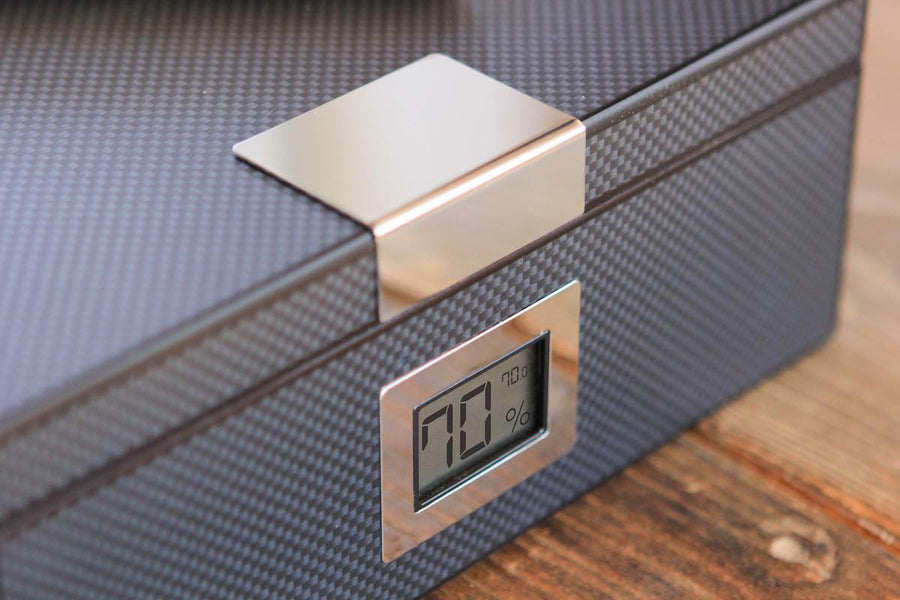 Digital Accuracy
Only our humidor comes with an embedded pre-calibrated digital hygrometer that will accurately read the humidity levels. Create the perfect environment for your cigar.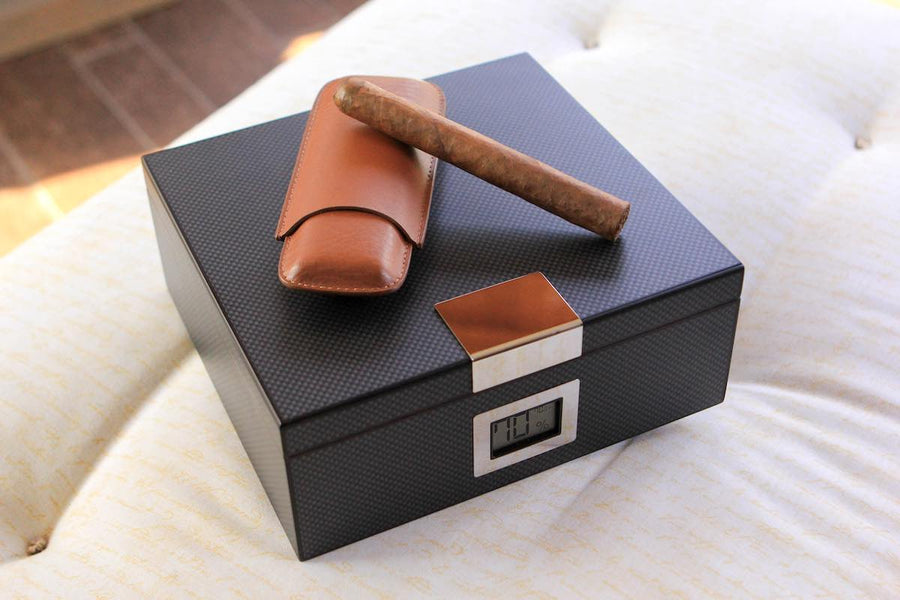 Perfect Humidification
We've gone the extra mile and developed our own built-in humidification system that keeps your Klaro humidor perfectly seasoned between 65% to 72% RH.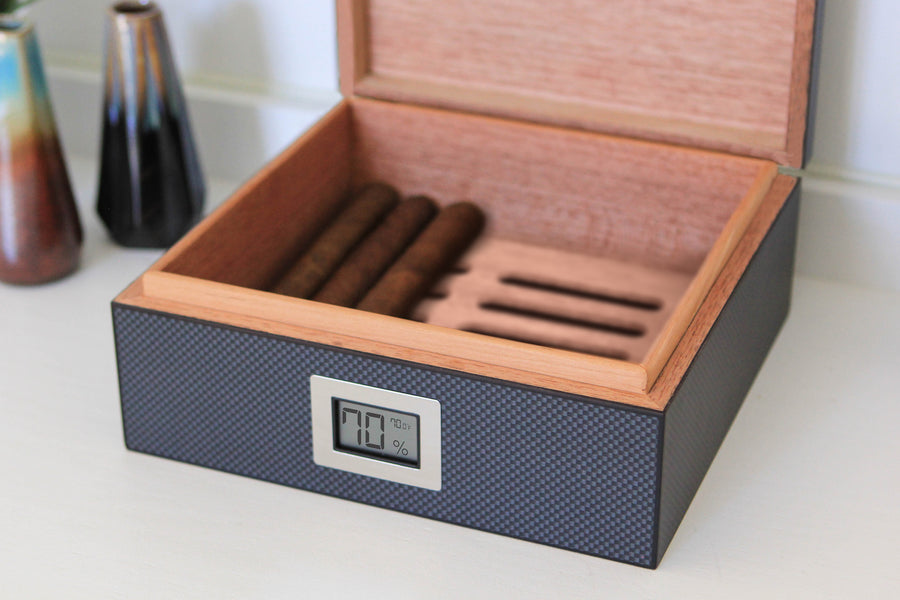 Spanish Cedar
We coated the inside lining and perimeter coaming seal with high quality 100% Spanish cedar wood. The abundant amount of Spanish cedar locks in moisture, significantly extending the life of your cigars.
---