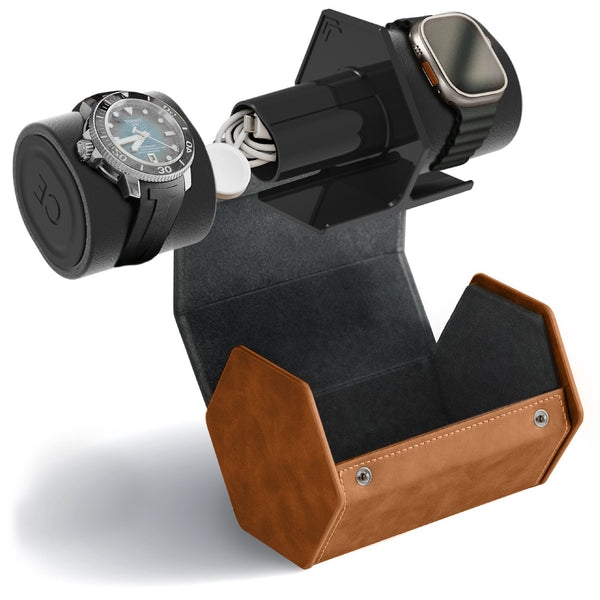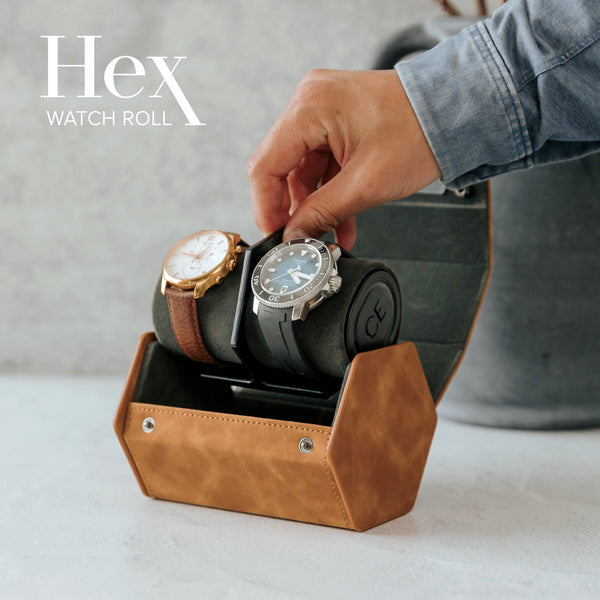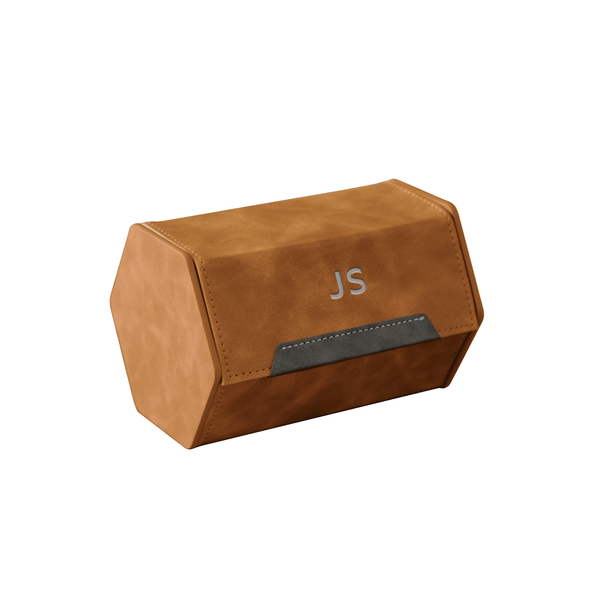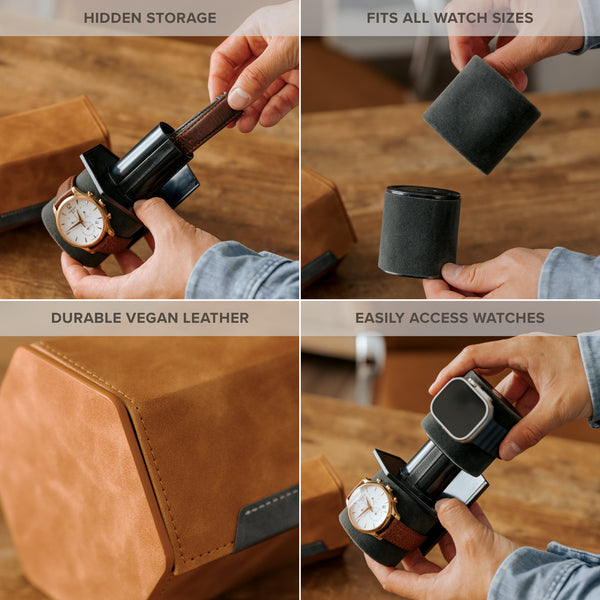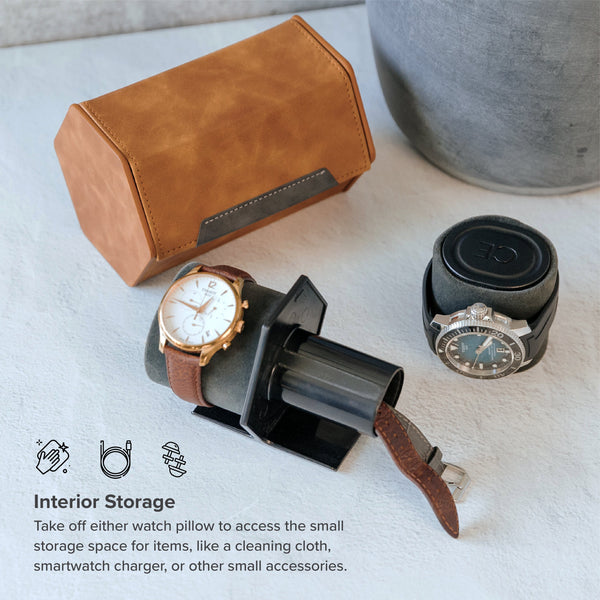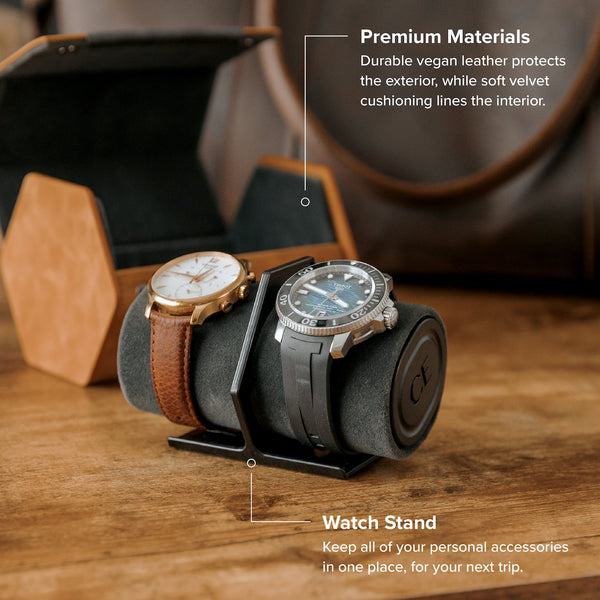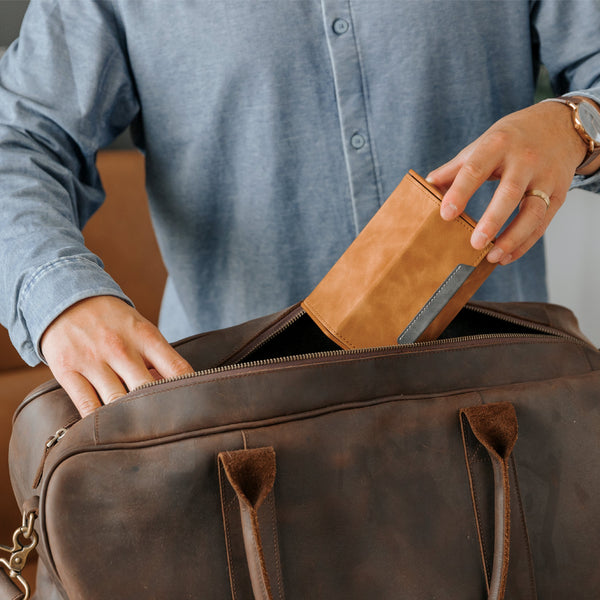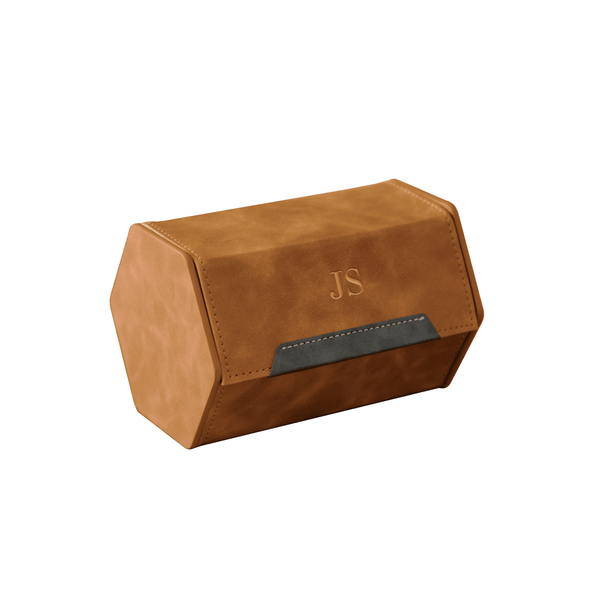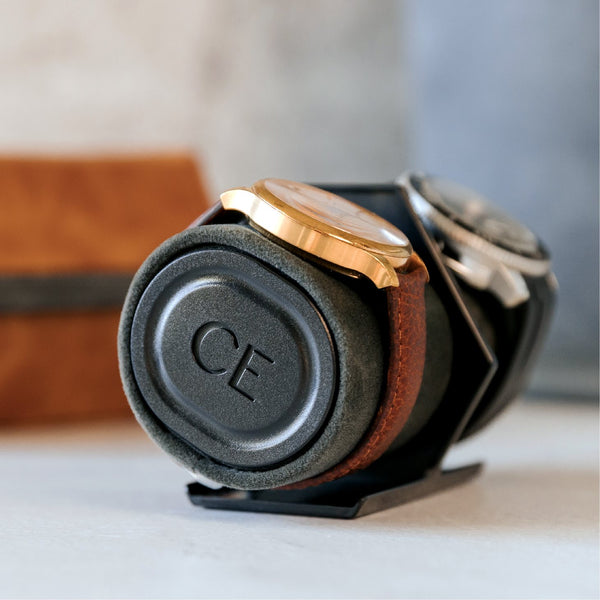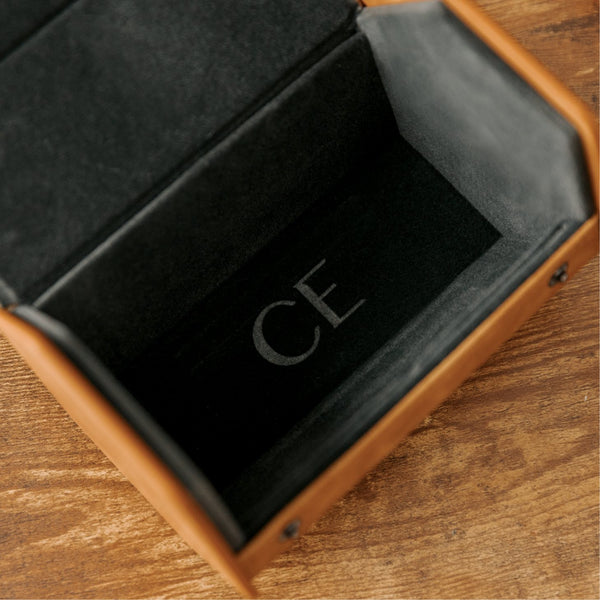 Keep your best first impressions on display
The Two-Slot HEX Watch Roll puts two of your favorites on display in a dapper, vegan leather case with a soft, dark gray velvet interior that matches the classiness of your watches. The HEX watch roll features a removable stand that prevents movement and rolling when traveling and allows you to display your watches front and center the way they should be. Each pillow cushion features a removable pillow sleeve that helps to fit all watch sizes. Inside the stand is a hidden storage compartment perfect for extra watch bands, a smartwatch charger, a cleaning cloth, cufflinks, or other accessories. Sturdy snaps keep your watches snug and won't damage the watch mechanics. Slip this in your carry-on and keep your best first impressions on display with this secure two-slot watch roll by Case Elegance.

BUILT-IN STORAGE COMPARTMENT - Remove one of the watch rolls from the base to reveal a hidden storage compartment with plenty of room for an additional watch band, a smartwatch charger, a cleaning cloth, or other small accessories. A true innovation in watch storage.

TRUSTWORTHY PROTECTION - Durable, soft, brown vegan leather crafted in a hexagon silhouette protects your watches without compromising luxury. The exterior has a leather flap that accents the case and is secured with sturdy metal button snaps. On the interior, velvet cushions protect your watches from any damage or scratching.

FITS ALL WATCH SIZES - The HEX watch roll comes with removable pillow sleeves that allow you to adjust for your ideal band length to fit any watch size comfortably. A sturdy display stand keeps both watches secure during travel, free from sliding around when jostled.

FOR THE MODERN GENTLEMAN - Every part of this case has been specifically designed and engineered to perform and look better. From the innovative removable stand that prevents watch movement when traveling, the hidden storage compartment, and the premium materials, the HEX watch roll is our flagship watch case that pushes the boundaries for watch storage.

PERSONALIZED GIFT - Elevate your gift this year by adding personalized initials, available in multiple colors. Give them a gift they won't forget.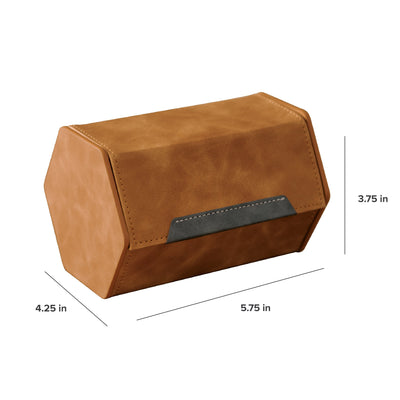 Durable vegan leather
Soft velvet interior that protects your watches
Gunmetal button snap
Inner storage compartment
Anti-rolling ridge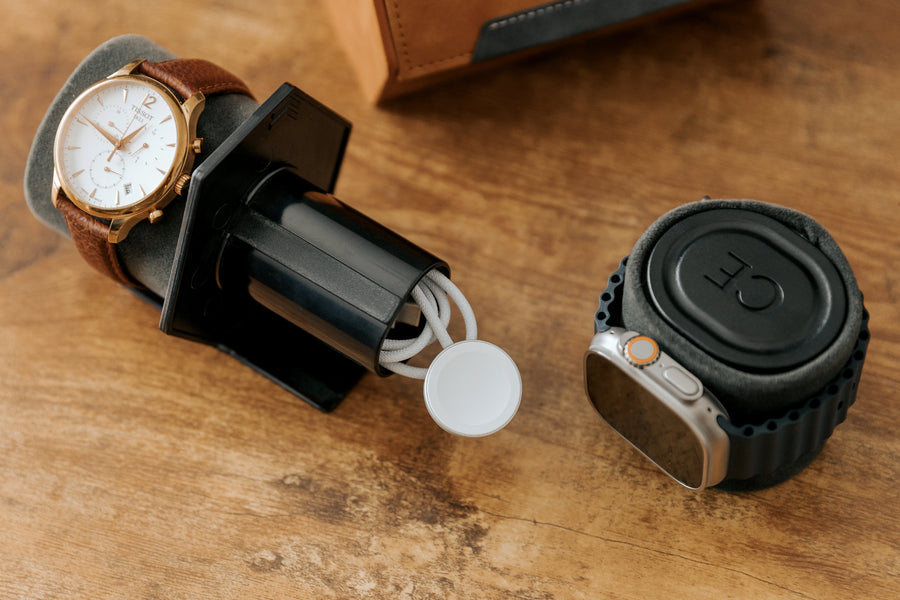 INNOVATIVE PILLOW STORAGE
Remove one of the watch rolls to reveal a hidden storage compartment for your accessories like the included polishing cloth, watch bands, smartwatch charger, or other small accessories. Simple, sleek, and minimal.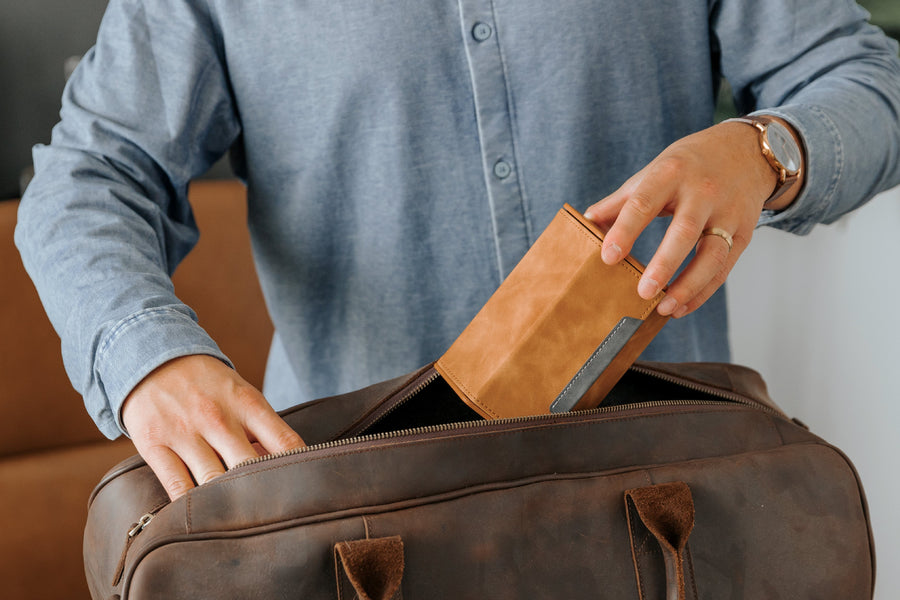 FOR TRAVEL AND DISPLAY
Display your favorite two watches with a superior roll that stands on its own, showcasing your best in a velvet-lined case. Perfect for tucking in a suitcase or carry-on, the Two-Slot Watch Roll makes for easy, secure transport and a stunning reveal. Your watches will never look better on this secure and snug watch roll–except on your wrist, that is.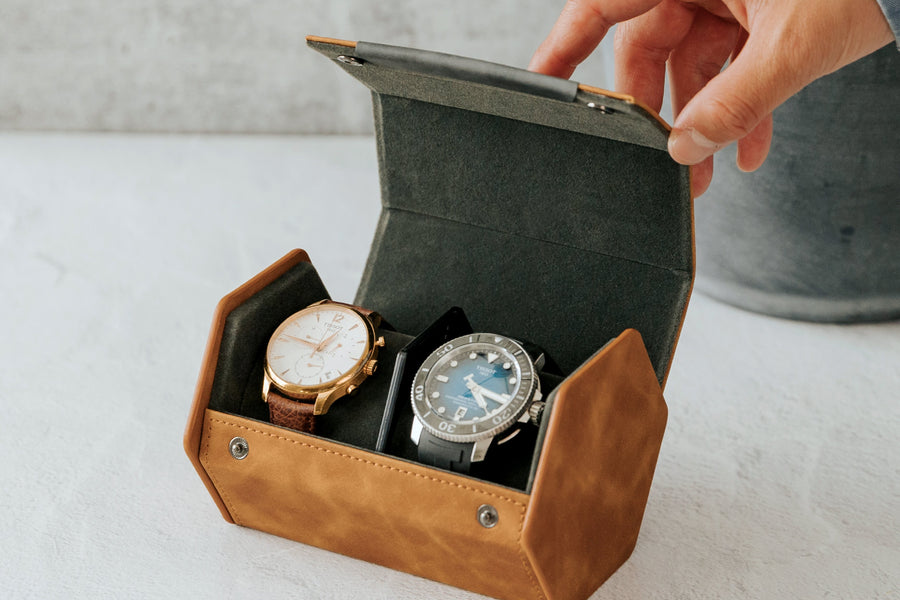 THE PERFECT GIFT
The Two-Slot Watch Roll is a perfect choice when gifting a true watch lover, even if they already own a watch box. This travel-friendly, compact roll puts the show on the road, ensuring their selections are safe and ready with a durable, top-of-the-line watch roll.
---